Write a Romantic Short Story and have it Broadcast! THE SOPHIE KING PRIZE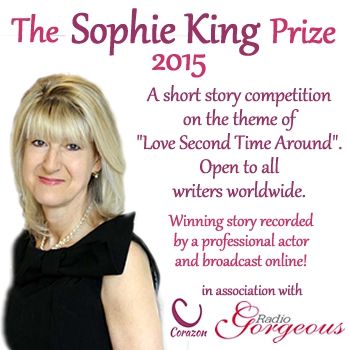 Love Second Time Around – write a romantic short story and have it broadcast!
THE SOPHIE KING PRIZE for AUTHORS, GORGEOUS GOSSIP with Josephine Pembroke and Sophie King. Sophie King gives away her hard earned secrets to us about how to write that book we all believe we have in us.
This annual romantic fiction competition aims to discover a great new romance short story. This year, entrants must submit a story on the theme of "Love Second Time Around". PRIZES:
The winner will have their story recorded by a professional actor, and broadcast online wherever you can hear Radio Gorgeous.
What's more, the winner will also receive written feedback on their story from Sophie's agent, Kate Hordern of the Kate Hordern Literary Agency!
One runner up will receive three Corazon Books paperbacks, and a £15 Amazon gift card.
The Sophie King Prize is free-to-enter and open to both published and unpublished writers from anywhere in the world.
The Sophie King Prize is free-to-enter and open to both published and unpublished writers from anywhere in the world. 2) Deadline for entries Monday 14 September 2015
3) Winner and runner up announced Monday 16 November 2015
Full entry details: http://bit.ly/compiOffz
www.greatstorieswithheart.com
www.sophieking.info #Competition #Romance #Writers #Women #Books