#077 - Thirty Days to a Bigger Stage: How to leverage publicity so you can amplify your message with Joel Kessel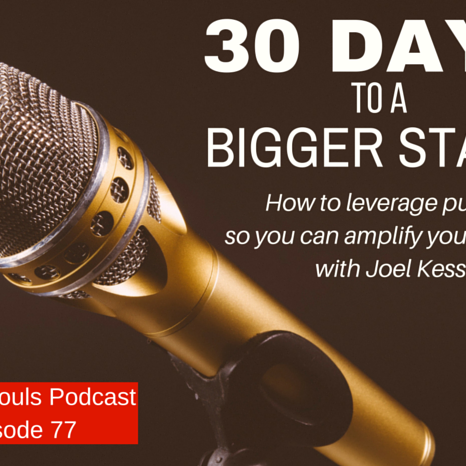 Ever wonder how to PENETRATE your market, PLOW through your fears, and PREPARE to be a rock star in your industry?
Over the years a number of amazing people have asked me to interview them on the Igniting Souls podcast. Because I'm so committed to our time together, my answer is almost always no.
But...this week I invited someone special to join me on the show. He's been a friend and a client for 5+ years AND he helped me get some media when I launched my book Day Job to Dream Job.
I spend about 45 minutes peppering Joel Kessel with questions that will help you get more media attention for your message. He covers a number of key components including developing a message map (sample = http://bit.ly/29OfGjv), interview questions, and a digital press kit. This is an episode you don't want to miss.
Joel Kessel is a 20+ veteran on media relations. Joel's focus as a communications advisor is to help people who are doing meaningful work get their story out in a meaningful way so they can have a larger impact on the people they serve.
Throughout his career, he has developed a specialization in strategy and media relations, which has garnered attention for his clients in numerous publications and outlets from USA Today, New York Times and the Associated Press, to the CBS Evening News, NBC Nightly News and Columbus Business First, among others.
(And some of you might resonate with his content so much you'll want to check out his newly developed course: 30 Days to a Bigger Stage===> http://bit.ly/29OgXqI
QUESTION: Would you benefit from a bigger stage?
(Please comment below. I'd love to hear your thoughts. And if you know someone who needs to read this, please encourage them by sharing this.)