Warwick Avenue to Periferico Oriente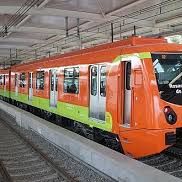 Warwick Avenue to Maida Vale reimagined by Manuel Guerrero.
"A part of the Warwick Avenue to Maida Vale field recording have the sound of the wheels hitting the rails, producing a screech that it's disturbing. Listening this, it reminds me that the 12th subway line of the Mexican public transport system have a similar sonic phenomena: in a part of the line, by the structure, the bend it's too tight , so that spooky sound –as if the ghost riders in the sky should come- fill the entire wagon.
I found curious how that strange sound can bond the two transport systems, in specific contexts; from the economy and politics, through the demographical levels till the cultural meaning for the people of each city."
Part of our project The Next Station, reimagining the sounds of the London Underground and creating the first ever tube sound map. August 2016 - for more information see www.citiesandmemory.com/thenextstation