Anādi (Without Origin) - An Interview with Binisa Colmenero Lira & David Prats Mira
Episode 22,
Nov 05, 2016, 07:15 PM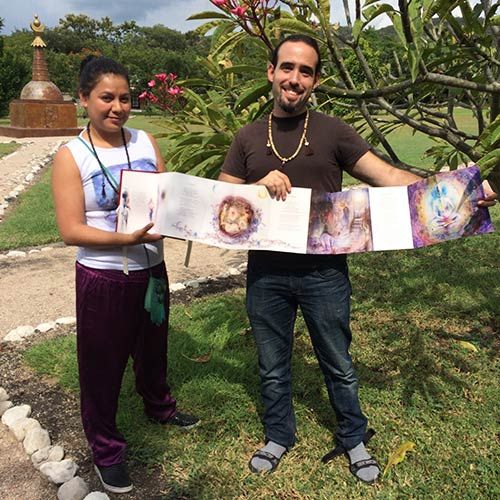 A conversation wth the artist and poet behind the new eBook from The Buddhist Centre Online: Anādi - Without Origin (in English and Spanish editions). We hear about the origins of the book and about Binisa's meditative inspiration that underpins her work as a Dharma painter and illustrator, looking to the classic Tibetan tradition of thangka painting.
Anādi is a beautifully illustrated art and poetry book interpreting the "Bardo Thödol" – known as "The Tibetan Book of the Dead" – derived from the eighth century teaching of Padmasambhava, who was a fundamental figure in the dissemination of Buddhism in Tibet.
This enigmatic and ancient book is to guide people at any time in their lives, but above all aims to prepare them for death and what, in the Tibetan system, will come after it. Therefore, the book divides human existence into six intermediate stages or phases: life, dreams, meditation, death, the reality after death and rebirth. These six stages are trying to tell us that life as we understand it, does not end with the death of the body. The existence continues to be reborn in another body again and again, repeating these stages, until reaching what Buddhism calls Enlightenment.
https://thebuddhistcentre.com/stories/books/anadi
https://thebuddhistcentre.com/stories/books/anadi-espanol/
#Buddhism #Buddhist #Buddha #Padmasambhava #Tibetan #Tibet #death #dying #afterlife #Dharma #Dhamma #tantric #thangka #painting #illustration #Art