Play to Potential Podcast - Highlights from 2017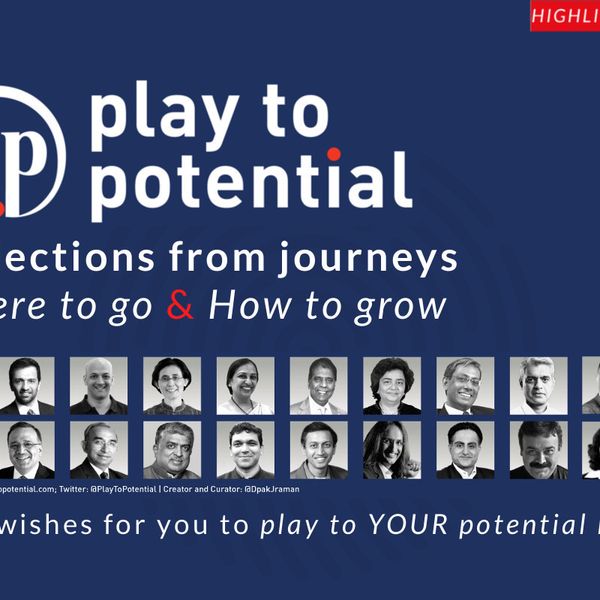 As we approach the end of 2017, we at the Play to Potential Podcast decided to step back and reflect on the year that has gone by and the incredible learnings from the various conversations at the podcast. It is hard to distil 20 plus hours of content into a few minutes but we wanted to share some key themes that stood out for us across the various interviews we had. We are excited to share that www.playtopotential.com (the site where the content is hosted) now has Curated Playlists by themes that enables you to get multiple perspectives on a topic that you care about (Childhood, Resilience, Navigational Principles, Re-inventing yourself, Insights into a career path and more).
Wish you the very best for 2018 and look forward to having you listen into some of the conversations in 2018.
HOST
Deepak is a Leadership Advisor and an Executive Coach. He works with leaders to improve their effectiveness and in helping them make better decisions specifically around organizational and career transitions. He currently runs Transition Insight (www.transitioninsight.com) and works with leaders to handle phases of transition thoughtfully. He has worked as an Operations Consultant with KPMG in UK, Strategy Consultant with McKinsey in the US and as a Leadership Consultant with EgonZehnder (a Swiss Leadership Advisory firm) where he helped companies recruit CEOs, CXOs and Board Members and worked on Leadership Development. Deepak is a certified CEO Coach and is an alumnus of IIT Madras, IIM Ahmedabad and London Business School. His detailed profile can be found at https://in.linkedin.com/in/djayaraman
DISCLAIMER
All content and opinions expressed in the podcast are that of the guests and are not necessarily the opinions of Deepak Jayaraman and Transition Insight Private Limited. Views expressed in comments to blog are the personal opinions of the author of the comment. They do not necessarily reflect the views of The Company or the author of the blog. Participants are responsible for the content of their comments and all comments that are posted are in the public domain. The Company reserves the right to monitor, edit, and/or publish any submitted comments. Not all comments may be published. Any third-party comments published are third party information and The Company takes no responsibility and disclaims all liability. The Company reserves the right, but is not obligated to monitor and delete any comments or postings at any time without notice.