Good Lord! ANDREW ADONIS on rebellion, 'national fascism' and PM Nigel Farage
Episode 34,
Jan 12, 2018, 07:00 AM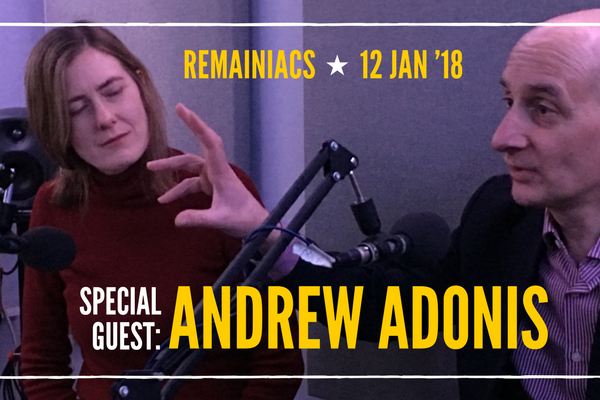 PEER PRESSURE: Newly-unbound superhero of remain Lord Andrew Adonis joins us in the Remainiacs Bunker to discuss how Brexit is infecting every aspect of government, the dirty tricks culture at No.10, and why Nigel Farage is the real Prime Minister. What's it like to be targeted as a "weasel" for speaking as your conscience dictates? And is he the right man to lead the Remain bloc?
Plus: the return of our own IAN DUNT, the trolling in the public interest of Chris Grayling… and welcome to the rebellion, Justine Greening MP? And a special WONK BONUS: Political writer PAUL EVANS give us his unusual recipe to fix the mess that Britain is in. Save democracy, abolish voting?
"Nigel Farage can have my peerage if I can have his German passport" – Andrew Adonis

Help us to #OwnTheRemoan! Put your shoulder to the anti-Brexit wheel and get smart Remainiac merchandise at our Patron page – http://www.patreon.com/remainiacscast
This episode of REMAINIACS is presented by Dorian Lynskey with Ros Taylor and Ian Dunt. Producers are Andrew Harrison and Matt Hall. Remainiacs is a Podmasters production.
Theme music 'Demon Is A Monster' used by kind permission of Cornershop. Buy it here: http://po.st/RMcrnsp