Nintendo Labo, Fortnite Success, and A New Fable - It's Obvious Podcast Ep. 137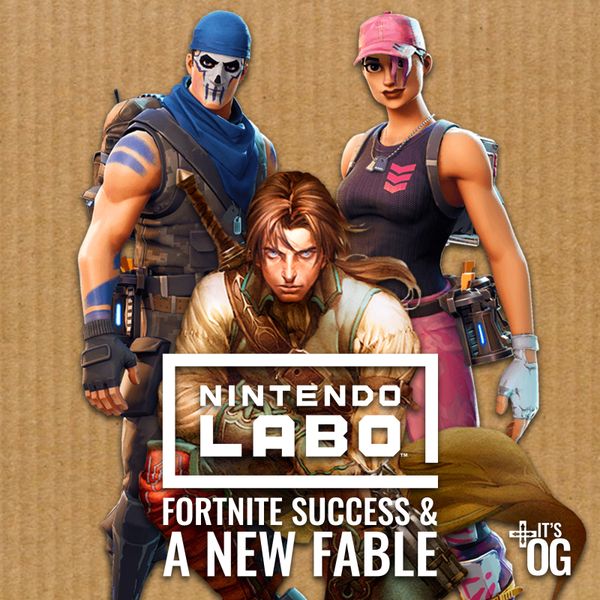 Nintendo Labo is strange, Fortnite is unstoppable, and Playground Games is rumored to be working on the next Fable!
CONNECT WITH US:
► Subscribe: https://www.youtube.com/channel/UCf9zCOpFh2WdgKPqvY6eug ► Discord Channel: https://discord.gg/kwyGcEv ► Twitter: https://twitter.com/ObviousGaming ► Instagram: https://instagram.com/itsobviousgaming/ ► Facebook: https://www.facebook.com/ItsObviousGa… ► ItsObviousGaming@gmail.com
HEY MAN, WHAT'S THE NEWS?
Cyberpunk 2077 at E3 2018: 58:40

Kratos' Axe in God of War: 1:04:04

New Spider-Man Gameplay Details: 1:07:11

Fortnite Success: 1:11:40

New Fable from Playground Games?: 1:14:46

Nintendo Labo Reactions: 1:19:06

Possible Steam Competitor: 1:28:42

Rocksteady Games Predictions: 1:33:08

Tomb Raider Trailer #2: 1:37:50

Hogwarts Mystery Trailer: 1:42:26

Community Questions: 1:48:17
TAGS: #ItsObviousGaming #Podcast #Gaming #GamingPodcast #Podcasting #VideoGamePodcast #Gamescast #Games #VideoGames #PS4 #PlayStation4 #Sony #PlayStation #Microsoft #Xbox #XboxOne #Nintendo #Review #Movies #Comics #LetsPlay #YouTube #PlayStationVR #PSVR #VR #Pokemon #PokemonGo #Overwatch #SouthPark #YookaLaylee #WatchDogs2 #Prey #Destiny #LegendofZelda #BreathofTheWild #ResidentEvilVII #FinalFantasy15 #Mafia3 #Funny #Comedy #GearsofWar4 #TheLastGuardian #PS4Pro #PlayStation4Pro #XboxOneS #XboxScorpio #Scorpio #ConsoleWars #Fallout4 #HorizonZeroDawn #Nioh #Tekken7 #DeathStranding #StarWars #RogueOne #Disney #MassEffect #MassEffectAndromeda #Bioware #Battlefield1 #Mafia3 #PowerRangers #RedDeadRedemption2 #NintendoSwitch #Logan #GuardiansofTheGalaxyVol2 #AssassinsCreed #CallofDuty #CallofDutyInfiniteWarfare #PC #Thief #Lol #InfinityWard #Titanfall 2 #RespawnEntertainment #Dishonored2 #TheLastofUsPartII #2017 #RainbowSixSiege #XCOM2 #FinalFantasy #NintendoSwitch #SuperMarioOdyssey #Trailer #Giveaway #LaraCroft #TombRaider #MachineGames #DLC #Expansion #GhostRecon #Wildlands #Prey #GuerrillaGames #Spotify #Bioware #Destiny2 #CallofDutyWWII #TheWitcher4 #CDProjektRed #Venom #SpidermanHomecoming #Batgirl #Marvel #DC #StarWarsTheLastJedi #TheLastJedi #StarWarsCelebration #StarWarsCelebration2017 #Battlefront II #Persona5 #Jak&Daxter #Horror #E3 #GuardiansofTheGalaxy #Disney #Mario #MarioKart8 #WorldofWarcraft #FarCry5 #Ubisoft #OverwatchAnniversary #Vlog #Injustice2 #Arms #E3 #E32017 #AssassinsCreedOrigins #TheCrew2 #Batman #DC #Marvel #Spiderman #Wolfenstein #Scorpio #BeyondGoodandEvil2 #MarioRabbids #KingdomBattle #MarioOdessey #GameofTheShow #NierAutomata #ForHonor #Media #Gamer #Culture #DLC #D23 #InfinityWar #TheLionKing #ToyStory #ComicCon #SDCC #Cyberpunk2077 #Hellblade #Lawbreakers #NinjaTheory #BossKey #Indie #Gamescom #XboxOneX #Hearthstone #PAXWest2017 #LeviathanRaid #PUBG #EpicGames #Fortnite #RDR2 #Rockstar #StarWarsBattlefront2 #SuperMarioOdyssey #VisceralGames #TheGameAwards #BatmanNinja #GodofWar #SlenderMan #KingdomHearts #OverwatchLeague #NintendoLabo #Fable #Fortnite #BattleRoyale