Fixing the BBC, Leavers for a Final Say vote and Ask Remainiacs
Episode 47,
Apr 06, 2018, 06:00 AM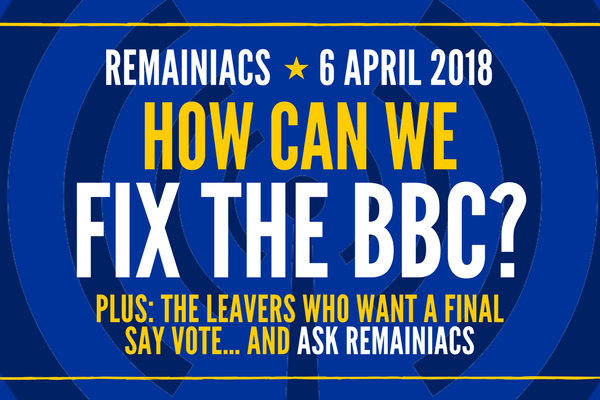 This week on the premier reason-based podcast for Brexit-watchers… The BBC's coverage of Brexit is causing increasing alarm. Is the Corporation failing in its duty to explain? Is it just frightened of government and demagogues? How do we fix it? Is John Humphrys really past his sell-by date? And if Remainers join the Bash The BBC mob, will we all live to regret it?
Plus: Theresa May's world tour of Britain's cow-sheds. With even volunteers for Vote Leave saying there must be a Final Say referendum, will it happen? Special guest Harry Eyres tell us about his new satirical book 'Johnson's Brexit Dictionary'. And we answer your queries in the return of ASK REMAINIACS.
"The Prime Minister looked like a 12-year old girl being dragged to the dentists."
This week's REMAINIACS is presented by Andrew Harrison with Peter Collins and Ian Dunt. Audio production: Jack Claramunt. Producer: Andrew Harrison. Remainiacs is a Podmasters production.
Help us to #OwnTheRemoan! Back our treacherous project and get smart Remainiacs merchandise via our Patreon page.
Theme music 'Demon Is A Monster' used by kind permission of Cornershop. Buy it here.