Versarien #VRS Satellite Solutions #SAT Landore Resources #LND and Malcy on #CHAR #SDX #JOG #ECHO #DGOC #RRL
Episode 1055,
Apr 30, 2018, 12:09 PM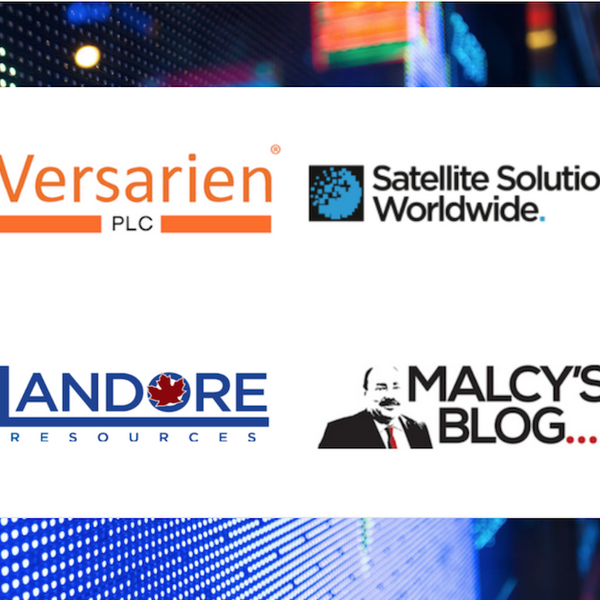 On the Vox Markets Podcast Today - 30th April 2018
Neill Ricketts, CEO of Versarien #VRS explains the agreement they've signed with Luxus, to develop a UK graphene enhanced polymer supply chain, to enable the production in volume of graphene enhanced plastics.
(Interview starts at 1 minute 53 seconds)
Simon Clifton, Co-Founder and Chief Technology Officer of Satellite Solutions Worldwide #SAT discusses the acquisition of two companies, Open Sky and Sat Internet Services plus their £12m fundraise, done at a premium to the share price.
(Interview starts at 10 minutes 58 seconds)
Richard Prickett, Finance Director and Landore Resources #LND goes overtheir recent news including the start of the 2018 drilling programme on the BAM East Gold Deposit at Junior Lake Property in Ontario.
(Interview starts at 18 minutes 22 seconds)
Oil & Gas Sector authority Malcy talks about the following stocks: Chariot Oil & Gas #CHAR
SDX Energy #SDX Jersey Oil & Gas #JOG Echo Energy #ECHO Diversified Gas & Oil #DGOC
Range Resources #RRL
(Interview starts at 23 minutes 59 seconds)
The Top 5 Most Followed Companies on Vox Markets in the last 24 hours & the Top 5 Most Liked RNS's on Vox Markets in the last 24 hours.
(Feature starts at 37 minutes 21 seconds)
Vox Markets is revolutionising the way companies engage with shareholders and the stock market at large. By aggregating IR and digital content onto one secure and compliant platform, Vox Markets has established itself as the go-to resource for the investment community.
#VoxMarkets #StockMarket #LivePrices #StockMarketNews #Money #Investing #Finance #Business #Podcast