Bollywood Weddings, Remakes, Sequels, And Rajnikant Vs. Salman
Episode 43,
Jun 05, 2018, 04:22 AM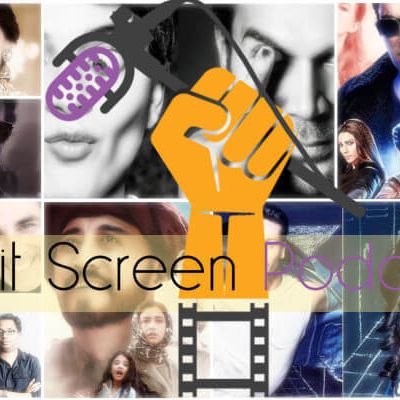 On this episode of the Split Screen Podcast, host Shah Shahid is joined by returning guest Alisa River, aka Bollywood Newbie, as part of the monthly Bollywood news roundup of the previous month, as well as looking at trailers of new movies releasing in June 2018.
SHOW NOTES:
1. News
2. Trailers
3. Contact Info
Alisa's first appearance on the Split Screen Podcast was on Episode 39 [ https://audioboom.com/posts/6766743-race-3-posters-bollywood-archie-sad-varun-dhawan-and-more-news-trailers ]
NEWS:
Sonam Kapoor's Wedding extravaganza!
The Buzzfeed article showcasing the behind the scenes of Sonam's Kapoor's wedding:
[ https://www.buzzfeed.com/niralishah/everyday-drunk-af?utm_term=.mxkNe0P5V#.irM4o8MKg ]
Bollywood paparazzi videos of Sonam Kapoor's wedding that Shah mentions:
[ https://www.hindustantimes.com/bollywood/neither-the-couple-nor-the-guests-heckling-paparazzi-had-the-best-time-at-sonam-kapoor-s-wedding/story-q2g09TVdpVRtLkAW9LhsZN.html ]
The wedding of Neha Dhupia to Angad Bedi.
[ http://indianexpress.com/photos/entertainment-gallery/neha-dhupia-angad-bedi-wedding-photos-5171360/ ]
Amyra Dastur cast in Rajkumar Rao and Kangana Ranaut starrer Mental Hai Kya.
[ https://www.firstpost.com/entertainment/amyra-dastur-joins-rajkummar-rao-kangana-ranaut-in-cast-of-ekta-kapoors-mental-hai-kya-4479641.html ]
Student Of The Year 2 motion posters released and why?!
[ https://www.hindustantimes.com/bollywood/student-of-the-year-2-motion-posters-put-focus-on-tiger-shroff-ananya-pandey-and-tara/story-7AdmfX4uZqEvoa3xgzLOWM.html ]
Arjun Kapoor's (aka, the loose Kapoor) next movie is with Raid & No One Killed Jessica director Raj Kumar Gupta.
[ https://www.ndtv.com/entertainment/arjun-kapoor-announces-new-film-as-he-clocks-six-years-in-bollywood-1850860 ]
Hera Pheri 3 finally has a release date in 2019, with the original cast!
[ https://www.thenews.com.pk/latest/320876-bollywood-classic-hera-pheri-to-return-with-a-third-part ]
Breaking down new Bollywood remake news. Original article: [ https://www.hollywoodreporter.com/news/mexican-comedy-instructions-not-included-set-bollywood-remake-1109049 ]
The Split Screen Podcast episode comparing Hollywood's Warrior into the Bollywood Brothers:
[ https://audioboom.com/posts/6612742-split-screen-podcast-episode-08-the-remake-of-warrior ]
The Split Screen Podcast comparing the Korean Man From Nowhere with the Bollywood remake Rocky Handsome:
[ https://audioboom.com/posts/6612738-split-screen-podcast-episode-12-john-abraham-tries-to-be-the-man-from-nowhere ]
TRAILERS:
The trailers for Bhavesh Joshi Superhero, Sanju & Veere Di Wedding were discussed in episode 41 of Split Screen Podcast.
[ https://audioboom.com/posts/6835381-spies-superheroes-stoners-sanju-baba-south-indian-movies ]
Bioscopewala is an adaptation of the Rabindranath Tagore story Kabuliwaala: [ https://en.wikipedia.org/wiki/Kabuliwala(shortstory) ]
Rabindranath Tagore was awesome! [ https://en.wikipedia.org/wiki/Rabindranath_Tagore ]
The trailer for Bioscopewala: [ https://www.youtube.com/watch?v=iNQq32twAH0 ]
Rajnikant's latest movie Kaala releases June 7.
Trailer for Kaala: [ https://www.youtube.com/watch?v=pSnMt6h6zk0 ]
Race 3 finally releases June 15.
The Race 3 trailer can be seen here: https://www.youtube.com/watch?v=pSnMt6h6zk0
CONTACT INFO:
Alisa's Twitter: @BollywoodNewbie [ https://twitter.com/BollywoodNewbie ]
Follow the Podcast on Twitter: @splitscreen_pod
Follow Shah Shahid on Twitter: @theshahshahid [ https://twitter.com/theshahshahid ]
#SonamKapoor #NehaDhupia #AngadBedi #ArjunKapoor #MentalHaiKya #RajkummarRao #KanganaRanaut #StudentOfTheYear2 #HeraPheri3 #Remake #AlisaRivera #BollywoodNewbie #Bollywood #Race3 #SalmanKhan #Kaala #Rajnikant #Bioscopewala #DannyDenzongpa