"Inspired Giving Podcast" Community Foundation of Tampa Bay 9-12-18
Season 5, Episode 544,
Sep 14, 2018, 02:08 PM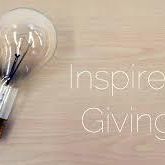 #SPG @StPeteCatalyst #CFTampaBay #RadioStPete #RadioStPete.com 
Neil and Gianna Gobioff talk philanthropy beyond check writing, disaster relief for the arts, and keeping a foundation in the family. 
On this episode of Inspired Giving, Wilma welcomes Neil and Gianna Gobioff of The Gobioff Foundation. This small private family foundation was founded in 2007 by Howard Gobioff, an early employees of Google. When Howard passed away just a few short months later, he left the foundation to his brother, Neil. Now, the Gobioffs run the foundation full-time with a singular goal of honoring Howard's memory and "making the world a better place." They share their learning experiences and give some sage advice for nonprofits. They talk the inspiration behind their current projects and their hopes and fears around the future of the foundation.