Episode 111: Sacha Gervasi Returns For My Dinner with Hervé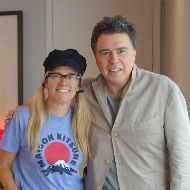 Our latest episode of Soundtracking sees a return for the supremely entertaining writer, director and producer Sacha Gervasi, who joined us a couple of months back to discuss his career to date. We held some of that interview back to coincide with the realease of his latest movie, My Dinner with Hervé.
Starring Peter Dinklage and Jamie Dornan, My Dinner With Hervé recounts the later days of actor Hervé Villechaize, best known for his roles in smash TV show Fantasy Island and The Man With The Golden Gun, in which he played Nick Nack. As you'll hear, it's a deeply personal endeavour for Sacha, who, almost by chance, got to know Hervé well shortly before he commited suicide.
Given My Dinner With Hervé was 25 years in the making, Sacha talks at length about his own relationship with Herve and why he felt he owed it to him to get project off the ground. We think it's a tale worth telling. So, before we get to the music, we're going to share this incredible backstory with you, interspersed with extracts from composer David Norland's score.