Revival
Episode 5,
Mar 15, 2019, 10:00 AM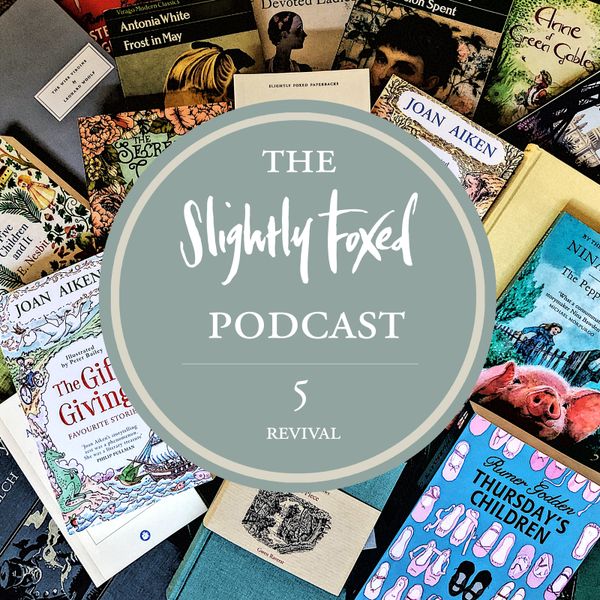 Gail, Hazel, Anna and Donna Coonan of Virago Modern Classics gather round the table to talk about giving new life to forgotten voices, and Helen Bourne heads for the Pyramids with a young Priscilla Napier.
The digits in brackets following each listing refer to the minute and second they are mentioned. (Episode duration: 33 minutes; 31 seconds)
Books Mentioned
• Slightly Foxed Issue 61 (2:02)
• Priscilla Napier, A Late Beginner (4:41)
• L. M. Montgomery, Anne of Green Gables (12:00)
• Noel Streatfeild's Christmas Stories (12:47)
• The Slightly Foxed Edition Gail refers to is Sword of Bone, Anthony Rhodes's memoir of his experiences of WWII and being evacuated from Dunkirk (15:28)
• Marjorie Hillis, Live Alone and Like It, is available through Little, Brown Book Group (16:00)(16:00)
• Winifred Watson, Miss Pettigrew Lives for a Day, is available from Persephone Books (18:40)
• Eric Newby, Love and War in the Apennines (23:26)
• Mary Hocking's trilogy of titles, Good Daughters, Indifferent Heroes and Welcome Strangers, are out of print, but we may be able to get hold of second-hand copies. Please get in touch for details (29:03)
• Graham Swift, Mothering Sunday (29:37)
• Sigrid Nunez, The Friend (30:06)
• Amor Towles, A Gentleman in Moscow (30:48)
Related Slightly Foxed Articles & Illustrations
• Rowena Macdonald's article on Philip Hensher's Kitchen Venom was published in Slightly Foxed Issue 61 (2:18)
• Extract from Priscilla Napier's memoir, A Late Beginner, read by Helen Bourne (23:54)
• Penelope Lively's preface to A Late Beginner was also published as an article in Slightly Foxed Issue 21
Other Links
• The second-hand bookshop in Canada is called Reasons to Live Books & Records. A full list of Slightly Foxed stockists can be found on our website: Stockists (0:40)
• The Slightly Foxed Subscribers' Competition 2019 (3:20)
• The Slightly Foxed Spring 2019 Readers' Catalogue is available to view and download (3:46)
• The Faber Stories series was launched as part of Faber's 90th anniversary publishing programme (3:52)
• Virago Modern Classics (6:31)
• Virago Children's Classics (11:35)
• Persephone Books (18:27)
• For subscriptions to Slightly Foxed magazine, and all our available publications, visit www.foxedquarterly.com (33:05)
Music & Sound Effects
Reading: introductory music Elgar's Salut D'Amour by James Langevin. Incidental music and sound effects courtesy of [www.freeso...