Maleeka's Vision Of Sight Loss.
Season 1, Episode 93,
Mar 15, 2019, 07:13 AM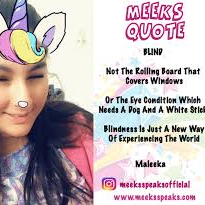 Maleeka Abbas is a schoolgirl from Berkshire with a very different outlook on her sight loss. The passionate blogger and vlogger has her own website where she aspires to inspire others and let the world know that losing your sight is no barrier to your dreams, aspirations and enjoyment of daily life. RNIB Connect Radio's Allan Russell spoke to Maleeka "and her mum Fizz" to learn more about her life, her website and hopes for the future...
#RNIBConnect