CC Gets 3K but Yankees Fall in Arizona + Mike Petriello, Statcast/MLB.com
Episode 327,
May 02, 2019, 07:39 AM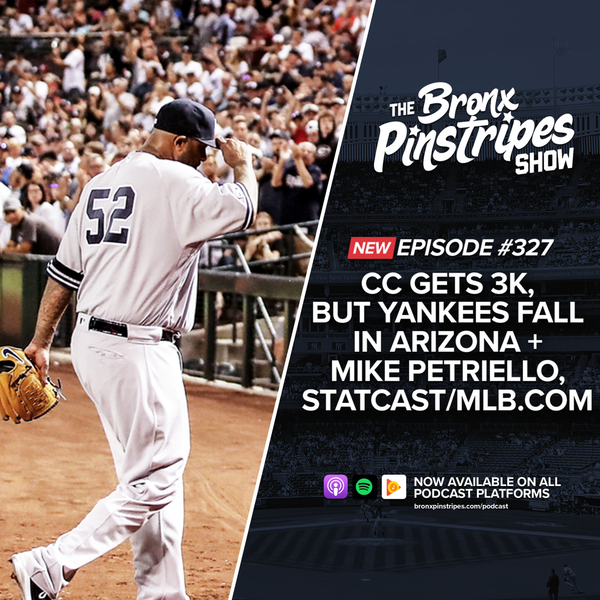 The Yankees finished their successful west coast road trip by dropping two in Arizona. Topics: Zack Greinke dominating the Yankees bats, CC Sabathia getting 3000 strikeouts, annoying replay calls, missed opportunities on Wednesday, the El Krakenites vs The Romineites, DJ LeMahieu's injury status, and the upcoming games vs Minnesota.
Mike Petriello, host of the Statcast podcast and writer for MLB.com, joins the show to talk about how the Yankees were able to find value in replacement players, Luke Voit, Domingo German, the AL East, the surprisingly powerful Twins, and much more!
BP Crew 2019 Regular Season event dates.
Buy tickets at: https://shop.bronxpinstripes.com/
Fri, May 31 vs BOS
Sat, Jun 22 vs HOU
Sat, Jul 20 vs COL
Sat, Aug 31 vs OAK
Get in touch:
@YankeesPodcast
@Andrew_Rotondi
@ScottReinen
@ItsChaBoyDom
@T_ Danks_
Submit to the mailbag: bronxpinstripes.com/podcast
Call the voicemail line: 646-480-0342
If you enjoy the podcast, please leave a rating and review!
Intro/Outro music: One Way Ticket, by Anitek.
#nyy #yankees #newyork #newyorksports #wfan #espn #mlb #baseball #sports