Well-Cultivated Words
Episode 9,
Jul 15, 2019, 09:00 AM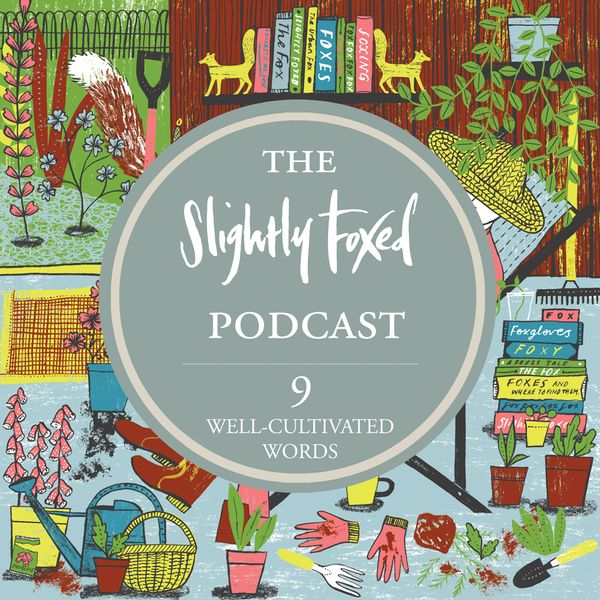 Gail, Hazel and host Philippa dig into the subject of garden writing with the journalist and social historian Ursula Buchan and Matt Collins, nature writer and Head Gardener at London's Garden Museum. The conversation meanders convivially in the usual Slightly Foxed manner, via daredevil plant-hunters, early wild gardening advocates such as Gertrude Jekyll, William Robinson and Vita Sackville-West, and the passing passions and fashions of garden design, with a peek over the hedge at Christopher Lloyd's Great Dixter along the way. And there's the usual round-up of the latest bookish harvest from the Slightly Foxed office and plenty of recommendations for reading off the beaten track too.
The digits in brackets following each listing refer to the minute and second they are mentioned. (Episode duration: 35 minutes; 50 seconds)
Books Mentioned


We may be able to get hold of second-hand copies of the out-of-print titles listed below. Please
get in touch
with Anna in the Slightly Foxed office for more information.
84, Charing Cross Road, Helene Hanff. Plain Foxed Edition published 1 September 2019, available to order now (2:24)
Corduroy, Adrian Bell. Plain Foxed Edition published 1 August 2019, available to order now (2:30)
Wood and Garden, Gertrude Jekyll is out of print (11:33)
The Wild Garden, William Robinson (11:34)
The English Flower Garden, William Robinson is out of print (11:38)
We Made a Garden, Margery Fish (13:27)
A Green and Pleasant Land, Ursula Buchan (15:23)
Graham Stuart Thomas titles are out of print (17:04)
Dear Friend and Gardener: Letters on Life and Gardening, Beth Chatto & Christopher Lloyd is out of print (18:46)
Forest: Walking among Trees, Matt Collins. With photographs by Roo Lewis (19:20)
Meetings with Remarkable Trees, Thomas Packenham (19:48)
Trees, Hugh Johnson (19:52)
The Hidden Life of Trees, Peter Wohlleben
Oriental Vegetables, Joy Larkcom is out of print but both The Salad Garden and Grow Your Own Vegetables are available (21:37)
The English Gardener, William Cobbett is out of print (22:06)
The Well-Tempered Garden and In My Garden, Christopher Lloyd (22:49)
The Diary of a Bookseller, Shaun Bythell (31:25)
Where the Hornbeam Grows, Beth Lynch (32:05)
Old Glory, Jonathan Raban (32:33)
So I Have Thought of You: The Letters of Penelope Fitzgerald, Ed. Terence Dooley is out of print (32:54)
Wilding, Isabella Tree (33:44)
Related Slightly Foxed Articles & Illustrations


An article on Beth Chatto, The Dry Garden will be published in a forthcoming issue of Slightly Foxed (18:11)
A Well-tempered Gardener, Michael Leapman on the garden writings of Christopher Lloyd, Issue 59 (22:49)
Other Links


Ursula Buchan is an award-winning journalist, social historian and garden writer (3:50)
Matt Collins is a nature writer, and Head Gardener at the Garden Museum in Lambeth, London (6:02)
David Douglas (25 June 1799–12 July 1834) was a Scottish botanist, best known as the namesake of the Douglas-fir (10:08)
Hortus, a gardening journal (20:08)
All back issues of Slightly Foxed are available to browse and buy here (30:20)
The Slightly Foxed Podcast is hosted by Philippa Lamb and produced by
Podcastable