Paris-Nice and pause
Season 8, Episode 26,
Mar 18, 2020, 12:16 PM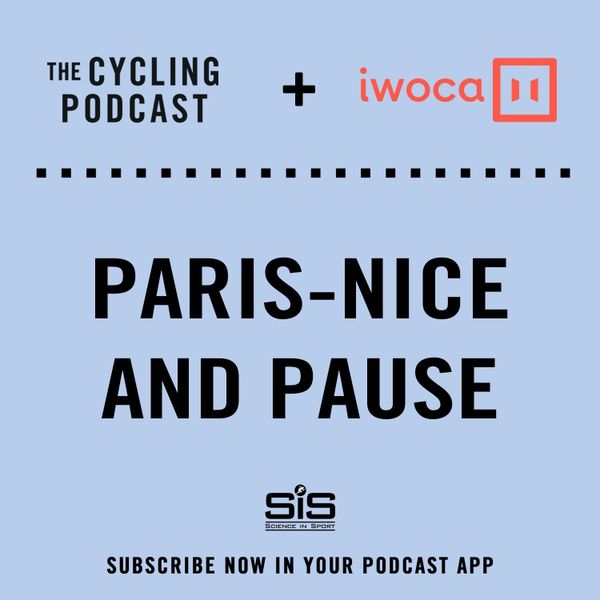 The world of professional cycling is not immune to the effects of the coronavirus and so the season has been put on hold after Paris-Nice.
From their separate studios, Richard Moore, Lionel Birnie and Daniel Friebe recap what will be the final race for a while. Daniel was on the road covering a surreal edition of the Race to the Sun and he reports on the decision by organisers ASO to push on to Nice and what it was like as the effects of the virus spread across Europe.
We also reflect on what was an attacking and entertaining edition of the race and discuss whether the 'three-kilometre rule' should have applied to Max Schachmann after his crash on the run-in to the finish of the penultimate stage in Apt.
What now for cycling? With the spring classics and the Giro d'Italia already postponed the sport faces a set of circumstances unprecedented in peacetime.
We also hear from Italian Martina Alzini, who is currently locked down at home, and Mitch Docker – host of Life in the Peloton – from Girona about what these new restrictions mean for pro riders.
It's too early to say when or how the racing programme will resume but The Cycling Podcast show will go on. You can find out more details about that in our weekly newsletter. Sign up at
thecyclingpodcast.com
The Cycling Podcast, brought to you by iwoca and supported by Science in Sport

iwoca is title sponsor to The Cycling Podcast. 
Over the past seven years iwoca has grown from a small start-up to one of the fastest-growing business lenders in Europe. Now they're a team of more than 300 in London and Frankfurt working towards the goal of funding one million small businesses, including cafes, spin studios and bike shops. They can lend between £1,000 and £250,000 and make it quick and easy to get a decision. If you are interested in finding out more about what iwoca can do for small businesses go to:
iwoca: Fast, fair and flexible business funding
The Cycling Podcast is supported by Science in Sport. For a 25% discount on all your Science in Sport sports nutrition products go to
www.scienceinsport.com
This episode is also supported by
Cyclist –
the monthly magazine dedicated to road cycling. To celebrate the 100th issue of the magazine you can get a big discount on a year's print and digital subcription by going to
cyclistmag.co.uk/podcast
. As well as saving over £82 you can also get a copy of the A3 print book Big Rides, which is worth £25.
KEEP UP TO DATE

Sign up for The Cycling Podcast's weekly email newsletter to keep up with what's going on behind the scenes. This week, Lionel writes about the return of Explore. Sign up at
thecyclingpodcast.com
BECOME A FRIEND OF THE PODCAST

Signing up as a Friend of the Podcast has never been easier. Our new system will get you connected in just a few clicks. Why sign up? Apart from getting access to our special episodes throughout the year – there are five online already – you will be helping us to keep The Cycling Podcast's team car on the road to provide daily Grand Tour coverage. Sign up at
thecyclingpodcast.com/subscribe
. We've frozen the price again – it's just £15, which will work out at less than £1 per special episode. If you want to pay more we'll send you a copy of our new book, The Grand Tour Diaries.
THE GRAND TOUR DIARIES

Available now at
thecyclingpodcast.com/book
. All Friends of the Podcast can get a 20% discount.