Adam Buxton on Scary Monsters
Season 3, Episode 17,
Dec 15, 2020, 06:28 PM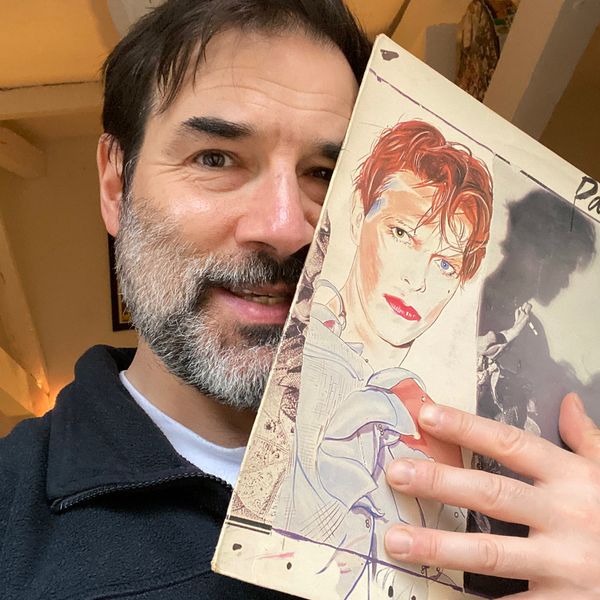 In this episode, I discuss 1980's Scary Monsters and Super Creeps with podcaster, comedian, author and actor Adam Buxton, in a suitably rambling chat that takes in the making of Scary Monsters, the young Buxton's first experiences of Bowie universe and subsequent Zavid obsessions. We also talk about the album at length, making it at least almost to the end of side one.
Welcome back to Albumto album with guest Bowie obsessive Adam Buxton! 

Scary Monsters is a milestone album. It is one I have long wanted to tackle here and I have quite a few thoughts about it. Here are a few of them. 

David Bowie entered 1980 restless for change and a new sense of purpose. The generally lukewarm reaction to his previous album Lodger clearly prompted an internal audit and the 33-year old artist, on the move from Europe and now soaking up the energy of New York city, felt the time had come to harness the spirit of adventure and experimentation of the 'Berlin' era with a scaffold of tough, catchy rock. 
The songs, constructed by the dream team core combo of producer Tony Visconti, guitarist Carlos Alomar, bassist George Murray and drummer Dennis Davis, came together fast. Gone were the conceptual hi-jinks of the Eno era and instead, Bowie crafted these tracks with painterly care and attention. Each has a dynamic chiaroscuro, silhouettes and shadows are everywhere. Bowie's interest in Expressionism and surrealism filters through these songs that tease the listener, before giving up their charms with sluttish abandon. 
Bowie recorded the album at a brisk clip in spring 1980, working hard and fast at the New York Power Station studios with his band and assorted guest musicians including left field guitarists Chuck Hammer and Robert Fripp, both of whom left their distinctive fingerprints on the record. The former, with his customised guitar-synths, aroused Bowie with talk of "guitarchitecture", the latter, a veteran of strange spontaneous sessions for Heroes and Lodger, scrawled atonic graffiti phrases across the title track, Its No Game, Fashion and so on, while a delighted Bowie would give gnomic instructions, "Play like Ritchie Blackmore, without sounding like Ritchie Blackmore!"
The lyrical content of the album gives us a fascinating insight within the author's brain. Clear-headed, relatively sober and facing down the barrel of his 30s (many messianic men feel weird at 33, especially those of self-mythologising bent) and for the first time, seeing the results of his influences on a new wave of foppish romantics. His constituency had always been in the margins of the mainstream, but now, in the sulphurous afterburn of punk, it seemed as if his legacy was everywhere. From the so-called Blitz kids, some of whom he rather smartly re-appropriated for use in the Ashes To Ashes video to his swipes and bitchy asides aimed at the younger generation in songs like Teenage Wildlife and Because You're Young, it seemed as if the unwilling role as older statesman of rock was sitting uncomfortably. His ambivalence to the generation of 'Blitz kids' who followed in his wake, was understandable. Bowie had always valued the courage to move on, look ahead and explore. His cadre of imitators that reached a peak around 1978, 1979 - pale, robotic - staccato of delivery and alienated of mien - irritated him, outweighing any personal gratification and flattery. 
As Bowie the artist would tend to leg it, on achieving a degree of success and acclaim, Bowie the viable record label investment and going concern was in deep shit, thanks not only to the aftermath of his disastrous mid 70s breakup with avaricious manager Tony DeFries, but generally dismal sales figures. The need to generate serious cash with serious moonlight would dominate the years ahead, leading to questionable artistic decisions and generating much unhappiness for fans, peers, record label and not least, the actor himself. 
But that was all still in the future. Looking back, we can mythologise 1980 as being the year that Bowie came of age as a recording artist. The self-referential myth-making wove throughout his year. It can be seen in the small, roughly obscured covers of Low, Heroes and Lodger on the Scary Monsters album artwork, the revisiting of 'Space Oddity's  Major Tom in the astonishing 'Ashes To Ashes'. It's the howling anguish in opener 'It's No Game (Part One) and the resigned indifference of the track's reprise at the close of the record. The lurking Pierrot of the cover figure, an affectation that stretched back to Bowie's days in mime with the Lindsay Kemp company, was also something of a marker, closing the blinds on yesterday as a 'cunt in a clown suit'. And this was the last time the alchemical magic of Alomar, Davis, Murray and Visconti would burn in the crucible of the studio. Shortly after the album was released, on September 17, 1980, Bowie was starring in a successful Broadway run as The Elephant Man, his close friend and inspiration John Lennon would be dead and the actor would return to his Swiss fastness, to plot yet another about-face. From now on, every album featuring Bowie that was released, would be compared to 'Scary Monsters', a millstone around its creator's neck who, despite the decades of artistic, critical and commercial successes and flops to come, would never again quite match its extraordinary moment and magic.
For more Adam Buxton shenanigans, check out his site at:
www.adam-buxton.co.uk
Subscribe to his podcast here (The 2016 'Bowiewallow' episodes ate especially recommended)
https://podcasts.apple.com/gb/podcast/the-adam-buxton-podcast/id1040481893
Adam's cartoon on the making of 'Warszawa' 
https://www.youtube.com/watch?v=FODvjYoVEi8&t=58s
Chris O'Leary's masterful Pushing Ahead Of The Dame blog special on Scary Monsters at 40 
https://bowiesongs.wordpress.com/2020/10/08/scary-monsters-at-40/