#108: Point-of-care Ultrasound for the Internist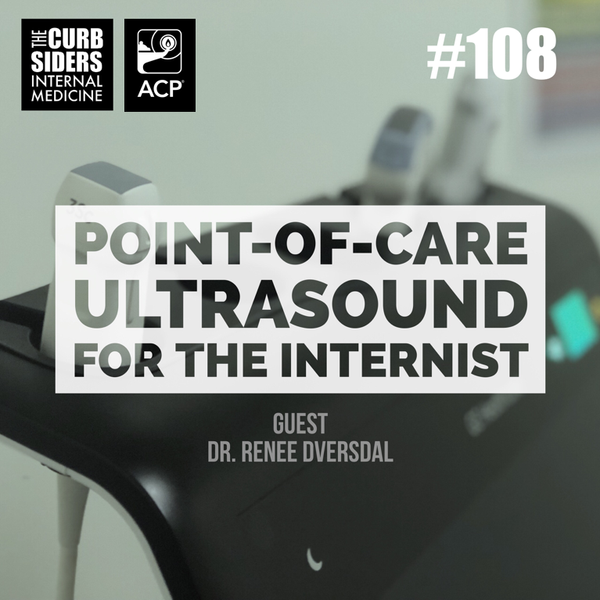 Point-of-care Ultrasound AKA POCUS ain't no hocus. Dr. Renee Dversdal (@ReneeDversdal) Director of the Oregon Health & Science University Point of Care Ultrasound and General Medicine Ultrasound Fellowship Director, joins The Curbsiders to discuss her craft. Topics include: Defining POCUS, the value POCUS adds to the physical exam, training pathways and the appropriateness of billing. This episode is sponsored for CME-MOC credit by the American College of Physicians. ACP members can claim free credit at acponline.org/curbsiders (goes live at 9am on release date). Follow this link to read the ACP's statement in support of POCUS in Internal Medicine.
Full show notes available at http://thecurbsiders.com/podcast. Join our mailing list and receive a PDF copy of our show notes every Monday. Rate us on iTunes, recommend a guest or topic and give feedback at thecurbsiders@gmail.com.
Credits:
Written by: Christopher Chiu MD and Renee Dversdal MD
Produced and CME questions by: Christopher Chiu MD
Edited by: Matthew "Mike" Watto MD
Hosts: Matthew Watto MD, Stuart Brigham MD, Christopher Chiu MD
Guest Expert: Renee Dversdal MD
Tags: point-of-care, acp, impocus, ultrasound, bedside, POCUS, CLUE, exam, training, lifestyle, management, assistant, care, doctor, education, family, FOAM, FOAMim, FOAMed, health, hospitalist, hospital, internal, internist, meded, medical, medicine, nurse, practitioner, professional, primary, physician, resident, student