Announcement: Our Patreon is LIVE!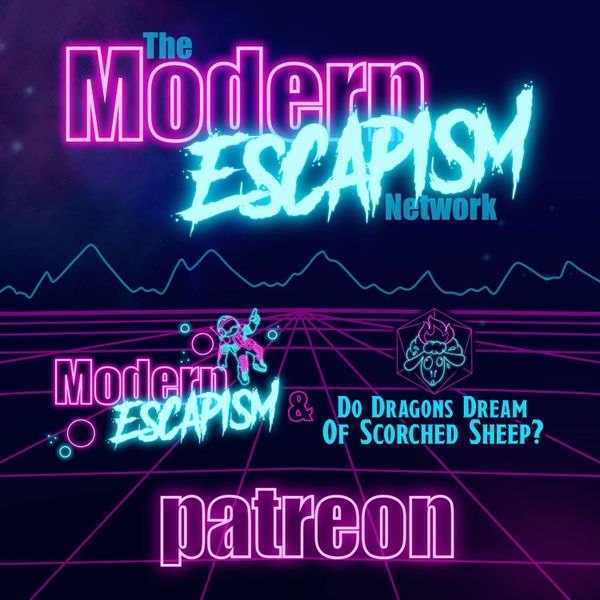 You read that right! We've launched our Patreon campaign!
If you head over to
http://www.patreon.com/modernescapism
you can sign up to support us. We have three tiers available:
Modern Escapees (£5): Get extended weekly episodes of Modern Escapism as well as at least 1 (sometimes more) bonus episode every month!
Scorched Sheep (£5): Get early access to ad free versions of Do Dragons Dream Of Scorched Sheep?, our Dungeons & Dragons podcast. Also battlemaps, artwork from Candymachine and the opportunity to suggest NPC names and Item descriptions
OR there's the Biggie Bundle (£7.50), which is everything above in one convenient, discounted feed!
Thank you so much for all the support you've given to us over the past 10 months. We're cooking up some brilliant things, we can't wait to show you what we're up to.
CONTACT US
@ModernEscapism
twitch.tv/modernescapism
modernescapismpod@gmail.com
https://discord.gg/bfNnu8P
Support us on Patreon
http://www.patreon.com/modernescapism
You can also follow us individually at:
@OodlesODimm
@Stig_Stu
@Bigkopman
@Gadget8Bit
@Candymachine85
This episode was produced and edited by @Gadget8Bit
Spotify Playlist Link
https://open.spotify.com/playlist/7n3h37BPaHaQanoQl3rYsw
Cover art by Jo Candymachine:
https://instagram.com/candymachine_art?igshid=19n3suhjv3ybb