Mysteries and Monsters:Episode 87 Allison Jornlin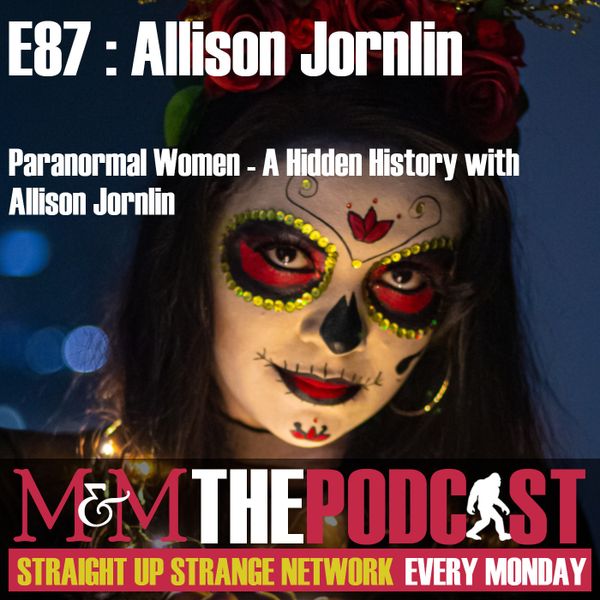 This week, it's a warm welcome back to the show for Allison Jornlin.
Allison has just launched a new YouTube channel, Paranormal Women: A Hidden History focusing on some of the paranormal trailblazers that perhaps don't get the credit they deserve or may even have fallen off the paranormal radar.
As such, Allison is shining a light on some of the paranormal world's most iconic women over the last two centuries. We discuss the legendary Catherine Crowe, a woman who wrote one of the outstanding paranormal collections of the 19th century, the incredible "The Night Side of Nature" in 1848.
A collection of paranormal research, witness testimony and investigation, her book set the template for paranormal research today and has always been one of my favourite researchers.
We also discuss the incredible force of nature that was Alexandra David-Neel, a former opera singer who discovered Buddhism and embraced it to such an extent that her knowledge changed the whole way it was viewed in the Western world. From creating Tulpa's and sneaking into forbidden territories, nothing seemed too much for David-Neel to achieve. She was  also an anarchist, ran a casino and adopted a Buddhist monk.
We also talk about the author, Zora Neal Hurston, the woman who brought the world of Voodoo and Zombies into popular culture but also saw her career take such a nosedive, most of her personal possessions were burned after she died.
These three women are titans in the history of the paranormal and yet most people haven't even heard of any of them.
You can download a free PDF of The Night Side of Nature
here:
Allison's YouTube channel is
here:
Allison's Facebook page is
here:
A big thank you to Allison for joining me today.
Don't forget, I need YOUR ghost stories for an upcoming show, so if you have a spooky encounter you wish to share with me, anonymously if you wish, please drop me a line titling your email - GHOST STORY to
mysteriesandmonsters@gmail.com

Our Patreon is now live, with bonus content, early release of the regular show, articles and monthly prizes for everyone who signs up! Join
here
now for the flat fee of $4 a month which is a bargain!
Don't forget, you can now show your support with our Merchandise shop on Redbubble! Check it out
here!

You can join us on
Facebook
, Twitter and Instagram as well.
All artwork by Dean Bestall and the show was produced by Brennan Storr of the Ghost Story Guys.


#AllisonJornlin #Ghosts #Haunting #TheNightSideOfNature #CatherineCrowe #AlexandraDavid-Neel #Tibet #CharlesDickens #Edinburgh #ZoraNealeHurston #Voodoo #Vodoo #Haiti #Zombies #Tulpa #Tumo #Buddhism #MagicandMysteryInTibet #MulesandMen #TellMyHorse