Small Wins - The Mini Pod sessions - Hatty Ashdown & Gemma Beagley
Season 4, Episode 49,
Aug 25, 2021, 05:35 AM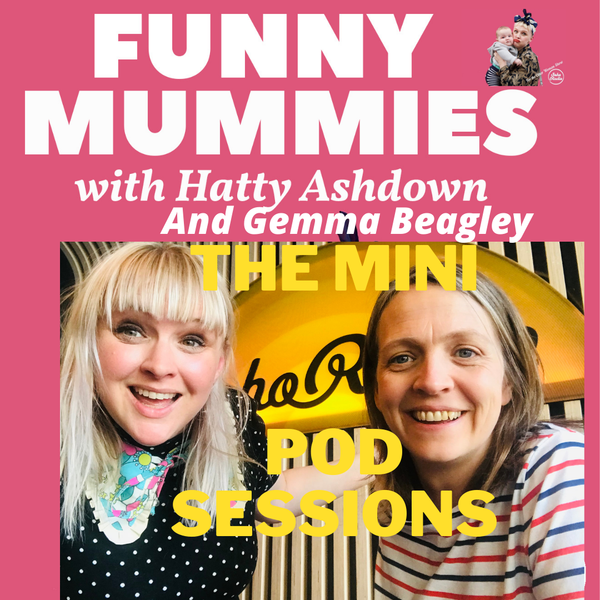 In this weeks Mini pod session we  catch up  with  Hatty Ashdown and Gemma Beagley  as  they discuss reaching the half way point of school holidays, screaming kids in public and learning to celebrate the small wins in life .
Catch Hatty Mcing at her next lunch time comedy show where babies can come too The 8th September 1pm At the Snooty Fox Canonbury N1 London . See
Screaming with laughter
for details 
Want to support  Funny mummies ? you can buy us a coffee here , via Ko-Fi 
https://ko-fi.com/hattyashdown_funnymummiespod
Edited By Gemma Beagley
You can follow the Funny Mummies podcast on IG @funnymummies_podcast
Facebook -
Funny Mummies podcast
Hatty on @hattyashdown on IG & Twitter
Gemma on @gemma_beagley on IG & Twitter
To fully  Support us and be part of the team & Future of FM   via Patreon 
https://www.patreon.com/join/FunnyMummiesPodcast
.
PLEASE RATE SUBSCIBE AND SHARE - it really does help more people find us - We love hearing from you so do put in your feed back in the comments section  or contact us  via socials .
MORE ABOUT THE TEAM
Host Hatty Ashdown co- wrote and created The sitcom Give out Girls on Comedy Central. Before she was a geriatric mum of two wild boys she presented  for the BBC and channel 4. She has interviewed and vox popped the likes of Lou Reed, James Brown , Alan Carr, Dani Minogue, The cast of Shamless, and many more.  She acts too and you will see her pop up on many TV adverts from Pizza Hut, Boots, Fridge raiders and coming soon Heinz . She is a  regular on the UK stand up scene and is curranty working towards a new hour show she plans to take to the Edinburgh fringe in 2022.

Gemma Beagley is Hatty's regular co- host and friend  ( unless she's busy or has no interest in the topic) she's a stand up comic ( un official these days ) but was the founder of the very long running Comedy Virgin club at the Cavendish Arms in London . A power house single mum of one  to a know it all 6 year old  boy, accountant by day but soon to be producer by night and day !
This production is in association with The Other woman Show on Soho Radio,  this show goes out the third Thursday of the month at 2pm often with a full music version of the show. 
We are also part of the
screamingwithlaughter.com
lunchtime comedy club where babies can come too. See website for live dates.