Give Me Bookings or Give Me Death
Season 1, Episode 5,
Aug 23, 2021, 03:33 PM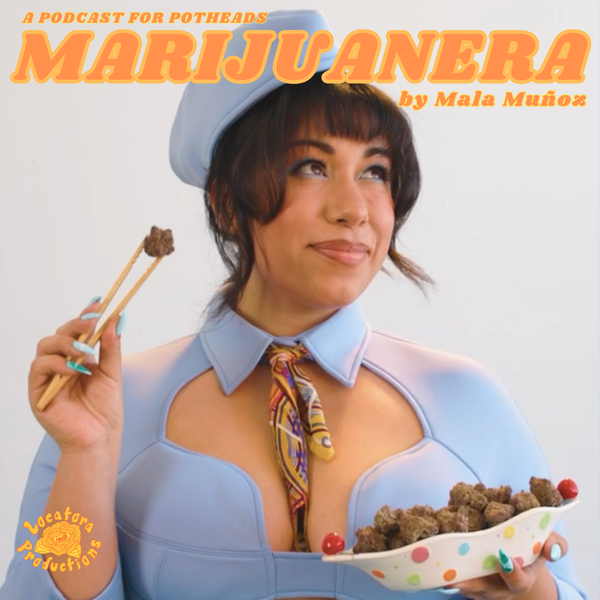 HEY MARIJUANERAS! It's Marijuanera Mondays so LIGHT UP and TUNE IN! Creator and Host Mala Muñoz is in conversation with Ru Johnson!! Ru Johnson is a cannabis and music industry brand operative at Roux Black Consulting, the project management division of The Penthouse Agency. Her work focuses on using the elements of creativity, beauty and fire to wreck the perspective of the status quo. She believes in prohibition and dismantling the war on drugs while making whole those most impacted through advocacy and campaign development. A nail polish enthusiast, Ru enjoys sunrises, beaches, cool water, smoking weed and sleeping on soft sheets. 


Listen to the end of the episode for a SAVE THE DATE announcement for the VERY FIRST Marijuanera Listening Party + Smoke Sesh EVERRRR!! You won't want to miss this. RATE AND REVIEW.

Subscribe/Follow! Marijuanera is a comedy podcast about cannabis. 
Marijuanera is an original podcast Created and Hosted by Mala Muñoz and brought to you by Locatora Productions. Marijuanera is where comedy and cannabis meet the Locatora Audioverse. Learn more at
LocatoraRadio.com

SUBSCRIBE and Follow Locatora Radio @locatora_radio and Marijuanera Creator Mala Muñoz @mala_munoz across streaming and social media platforms including YouTube, Instagram and Tik Tok @locatora_radio


USE OUR MARIJUANERA AFFILIATE CODE (MARIJUANERAP4P) FOR A DISCOUNT ON YOUR NEXT PURCHASE AT LATINA OWNED MOTA GLASS!!
USE CODE: MARIJUANERAP4P

Created, Written, and Hosted by Mala Muñoz
Logo Art - Micah Amaro @amaroart96
Audio Editor- Stephanie Franco @stephaneezzyy
Original Music - Chrisol Lomeli @Chrisol_
A #LocatoraProduction
#marijuanera
#locatoraproductions
#locatoraradio
#locatora
#cannabis
#cannabispodcast
#weedpodcast