Episode 279: Collaborating, Revising and Proposing--What We Did On Our Summer Vacations
Episode 279,
Sep 03, 2021, 04:01 AM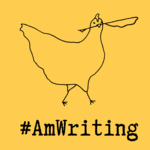 Jess and Sarina are back! After a hard-working summer and an August of anxiety (don't tell us you didn't feel that too), we talk about how we got all the things done and all the things we have planned, with a fun diversion into how and where to end a chapter to create the illusion of a break while keeping the reader hooked. Plus, a summer reading review that will absolutely add to your #tbr.


Links:


Sarina's latest best-seller:
Waylaid

#AmReading


Jess: 


KJ: 


Sarina: 


And—got a burning question about a writing life issue? Something on your mind you'd love for us to help you with? Email us at
amwriting@substack.com
. We can't promise to answer everyone, but if we think we could be useful to you (or know someone who can) and if your issue is of interest to other listeners, we might invite you to come on the podcast for a little coaching. 
Finally, KJ here with a little news about
Author Accelerator's Book Coach Certification Program
. I'm in the middle of it! You might remember
this bonus episode
, where Jennie Nash and I discussed "Shiny Thing Syndrome" and I was dubious about whether working with other writers as a book coach was a great side gig or a distraction for ME. Since then, I've been trying on the coach role in a number of small ways, and I've decided to go all in. This program is absolutely everything you need to get started from the editorial, coaching and business perspectives. It's also entertaining and inspirational and makes me want to leap in right away. Learn more at
Bookcoaches.com
. (Want to see what I'm doing? Click
here
.)