Erika Buenaflor, 11.14.21 - Curanderismo guide to Shapeshifting - Animal Medicine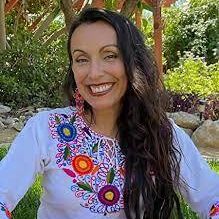 "Too-Large the Thunderbird lifted at once the jaw of his Thunderbird mask, and said, 'O, brother! We are people.'" - from a Kwakwaka'wakw myth
Source for that opening quote: 
Transformation and Shamanism
So we start with a simple demonstration. I requested an animal message to post that might be helpful for whomever is listening to this show and this is who showed up --
Welcome from the
Spirit Animal
who has given permission to step forward here _ abbreviated from Erika's book:
Jaguar:
  Underworld. Courage and Stealth.
Trust your intuition as to what you are sensing
. Once you have assessed matters, make a swift decision.


The book has an A-Z directory of 76 spirit animals.


Next choice is yours.
Although the nightlights are my primary focus, I do see and work with animals (spirit messengers) in person and in visions and dreams and value the opportunity to learn more about our connections and the wide variety of methods for enhancing awareness and strengthening the bonds.
Erika's enthusiasm is contagious. I have no doubt she is an exceptional teacher!
Erica's Website
:
RealizeYourBliss.
Books
include
Animal Medicine: A Curanderismo Guide to Shapeshifting, Journeying & Connecting with Animal Allies
.
Amazon.
Amazon edited 
Summary
:  Details the trance journeying techniques and shapeshifting practices of ancient Mesoamerican shamanic traditions and modern-day curanderismo.
Endorsement:
"Filled with information and experiential exercises to give you a first- person perspective, this book is a delightful deep dive into Mesoamerican shamanic wisdom! Buenaflor's work is not only valuable for exploring animal spirits from the curanderx perspective but will also augment the relationships with spirits you have already encountered on your shamanic path." ―
Evelyn C. Rysdyk, author of Spirit Walking, The Norse Shaman, and The Nepalese Shamanic Path (with B

Amazon
Review: 
Max -
5.0 out of 5 stars
 Real Teachings
Ms Buenaflor has written a true gem for those who wish to remember what many societies have lost. That is a connection to the animal and natural world. There are details in this book that give one the ability to actually sense the animal energy that is being looked for or needed. I have never read such an honest and accurate method of life improvement through animals and nature.

Connect with Erika:

YouTube
Twitter
Classes