Homie For The Holidays ft. NaiySoGlam - Big Homies House E:89
Episode 89,
Dec 19, 2021, 05:00 AM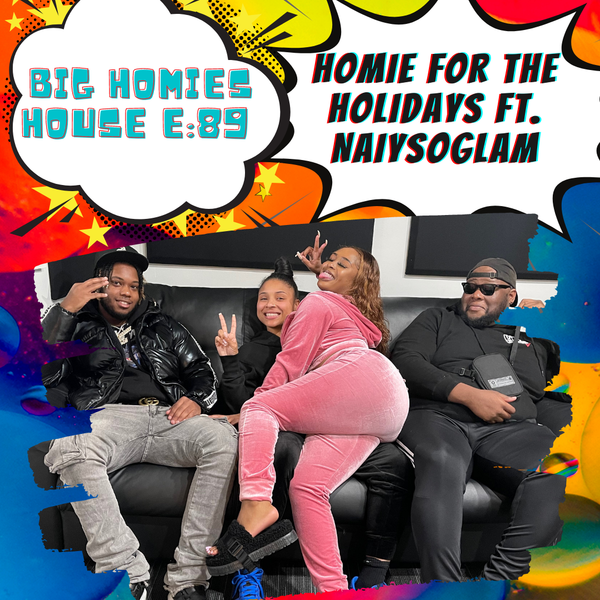 Homie For The Holidays ft. NaiySoGlam - Big Homies House E:89
#CHRISTMAS #POLYGAMY #AtlantaPodcast 
Its the end of the year and we got more of the Homies in the building, Big Homie Rottie and Big Homie Naiy in the building!
This week we discuss the craziness behind Juicy Smuleé and his fake allegations, we talk about Nancy Reagan being the most infamous Throat Goat in US History,  who's shaming hoes more men or women? These and a whole host of other topics with the homies today!!!!
ALL PODCASTS AUDIO AVAILABLE HERE: 
For EXCLUSIVE BEHIND THE SCENES FROM THE SHOW. CLICK HERE:
NaiysoGlam OnlyFans  HERE:
This weeks Homies are 
@naiysooglam
@lilrottie
TIMESTAMPS:
2:40 - Do You Have To Buy Her Groceries If You Shoot Your Shot In The Supermarket ?
7:30 - Nancy Reagan Was A Throat Goat ?
11:36 - Juicy Smuleé Found Guilty Of Lying About Hate Crime!
15:52 - Should We Forgive Juicy Smuleé
18:32 - Can Your S/O Take Family Pics With Their Baby Mom/Dad
28:11 - If You Are Intimate With A Man, Can He Ask You For Money?
32:19 - Do Women Judge Men For Having Sex Toys?
34:48 - Women Shame Hoes More Than Men?
41:13 - Would You Allow Your Partner To See Their Ex One Final Time?
1:00:57 - Do You Discuss Sex With Your Family Members?
1:19:21 - Does Monogamy Work More For Men Than Women?
Big Homies House, The Big Homies House, Big Homie Kodaq, Big Homie Jojo, Jussie Smollett, Nancy Reagan, Christmas, Mariah Carey, Spiderman, No Way Home, Spiderman NoWayHome, Andrew Garfield, Tobey Mcguire, Atlanta Podcast