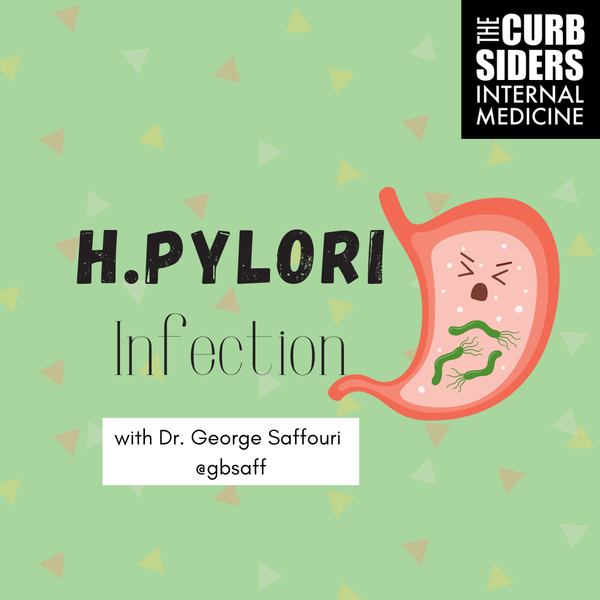 Say hi and bye to H. pylori infections! We review the basics of H. pylori screening, refresh your memory on testing basics, discuss treatment strategies, and talk through eradication testing with gastroenterologist Dr. George Saffouri (
@gbsaff
). 
A special thanks to our listener Ana Maria Keilhauer Varona (
@KeilhauerMa
) of
@UFMedu
who pitched this episode. Her hard work formed the basis for our script! 

Credits


Pitch Writer and Initial Script: Ana Maria Keilhauer Varona 
Producer, Writer, Show Notes, Infographic, Cover Art: Beth Garbitelli
Script Co-Writer: Elena Gibson, MD
Hosts: Matthew Watto MD, FACP; Paul Williams MD, FACP, Beth Garbitelli
Reviewer: Emi Okamoto, MD
Executive Producer: Beth Garbitelli
Showrunner: Matthew Watto MD, FACP
Editor: Clair Morgan of nodderly.com
Guest: George Saffouri, MD
Visit
panaceafinancial.com
today for information on their student loan refinance loans and to learn about their "refer a friend" program.
Special offer for The Curbsiders listeners: get 10% off your first month at
betterhelp.com/Curb

Show Segments


Intro, disclaimer, pitch contest winner, guest bio
Guest one-liner, Picks of the Week 
Case from Kashlak; Conceptualizing gastritis vs. dyspepsia
When to screen for h.pylori
Gastric cancer and h.pylori infection
Cultural competency in screening
Other indications for h.pylori testing, ITP and h.pylori
How to test
Treatment modalities
Eradication testing, persistent infection