Better Lawns and Gardens - Hour 2 Your Garden Questions Answered May14, 2022
Season 2, Episode 165,
May 14, 2022, 07:22 PM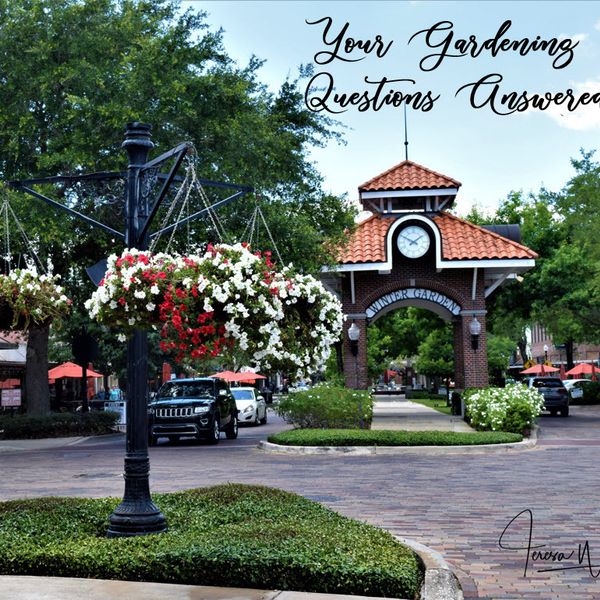 With nothing but my wits and Series 4 De-Atomizer, I answer your gardening questions on Better Lawns and Gardens. Listen every Saturdays from 7am - 9am EST and on Audioboom podcast 24/7. https://bit.ly/3c1f5x7
Better Lawns and Gardens
Hour 2 – Coming to you from
Summit Responsible Solutions Studios,
  Garden expert and host, Teresa Watkins responds to audience gardening questions. Dirty Word of the Day is "Dioecious." Garden questions and texts include watering new lawn, young bluebirds and hummingbirds in Tallahassee, half-dead bougainvillea, firebush issue, using Spanish moss as an orchid basket liner, Azomite, something's eating my crotons, Waterwise Landscaping database, loquat, palm trees removed, can they be used as mulch, Whirling butterflies, sago cycad pups, and much more. 
https://bit.ly/3c1f5x7

 Photograph and Graphic Credits: Teresa Watkins
 
 Listen to Better Lawns and Gardens every Saturday 7 am - 9 am EST.  Call in with your garden questions 1.888.455.2867, or text 23680. 
  
 #WFLF #WFLA #FNN #BetterLawns #gardening #Florida #planting #gardeninglife #radio #southflorida #northflorida #centralflorida #tropical #floridalife #photography #SHE #fertilizer #turf #grass #landscaping #fruits #vegetables #Orlando #Sarasota #Miami #FortLauderdale #Naples #BLGradio #WRLN #WiOD #2022 #gardening #fertilizer #SummitResponsibleSolutions #QualityGreenSpecialists #BlackKow #gardentours #travel #Spring #May #Moon #SuperFlowerBloodMoon #Eclipse