Well-Being Cities - the sound installation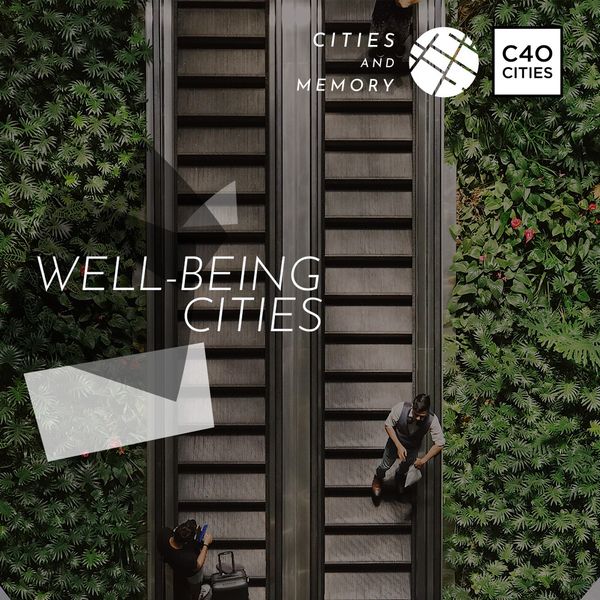 *To recreate the effect of this sound installation, we strongly recommend listening through headphones.*

The Well-Being Cities sound installation is an hour-long interactive tour across 31 countries, starting with the furthest from Buenos Aires in Seoul, with each destination one step closer until we arrive at our host city with the final recording.
On one side of the installation space, you will hear an original field recording from that city, documenting a moment in its life. On the other side of the space, you will hear a reimagined composition built from that original recording, with each artist inspired by the source material and the question of what constitutes well-being in a city for them. The pieces change in sync, so the field recording and reimagined composition change to the next destination at precisely the same time. 
By physically moving around the space, the listener is able to create his or her own sound mix by proximity to either set of speakers, focusing on the field recording, the composition, and how the two blend with and interact with one another. We invite the listener to participate by immersing themselves in the sound and exploring how 31 artists have reinterpreted the sounds of 31 cities. 
The recordings and compositions you will hear are listed in the timecode below.
TIMECODE:
0.00-1.02: Seoul, South Korea – Mullaedong machine shop
(reimagined composition by Eulipion Corps)
1.02-1.50: Chengdu, China – Wenshuyuan temple
(reimagined composition by Point/Call)
1.50-2.50: Fengyuan City, Taiwan – Fengdong twilight market
(reimagined composition by Maribel Tafur)
2.50 -5.06: Ho Chi Min City, Vietnam – train station at night
(reimagined composition by Stefan Klaverdal)
5.06-6.03: Bangkok, Thailand – Wat Pho temple
(reimagined composition by Phexioenesystems)
6.03-7.30: Stockholm, Sweden – tourists at the royal palace
(reimagined composition by Janae Jean)
7.30-8.51: Istanbul, Turkey – Tahiri Sali Pazari bazaar
(reimagined composition by Akari Komura)
8.51-10.58: Warsaw, Poland – quiet streets during the Covid-19 lockdowns
(reimagined composition by Arvik Torrenssen)
10.58-13.00: Adelaide, Australia – morning birdsong during the Covid-19 lockdowns
(reimagined composition by Rob Law)
13.00-16.58: Copenhagen, Denmark – alert siren test
(reimagined composition by Bill Stevens)
16.58-18.21: Skopje, North Macedonia – busy street life
(reimagined composition by Nicolo Scolieri)
18.21-19.46: Berlin, Germany, Bellevue train station at night
(reimagined composition by Cities and Memory)
19.46-21.15: Sarajevo, Bosnia – santur player outside a café 
(reimagined composition by Thomas Ellison)
21.15-25.08: Zadar, Croatia – sea organ sound sculpture
(reimagined composition by Andy Billington)
25.08-27.16: Amsterdam, Netherlands – pedestrian crossing outside Vrije Universitat
(reimagined composition by Rob Knight)
27.16-28.03: Exeter, England – young people's climate protest, 2021
(reimagined composition by Ella Kay)
28.03-29.53: Nairobi, Kenya – inside Jomo Kenyatta airport
(reimagined composition by Flora Zajicek and Cicely Fell)
29.53-31.50: Madrid, Spain – Plaza Cascorro during the Covid-19 lockdowns
(reimagined composition by Mark Taylor)
31.50-36.13: Coimbra, Portugal – traditional fado performance from the A Capella fado house
(reimagined composition by Moray Newlands)
36.13-38.56: Kigali, Rwanda – daily life in Gahanga market
(reimagined composition by Cities and Memory)
38.56-41.30: Wellington, New Zealand – the Zealandia nature reserve
(reimagined composition by Cristina Marras)
41.30-43.01: New York, USA – a busker plays John Coltrane on the High Line
(reimagined composition by Wayne DeFehr)
43.01-44.02: Ouagadougou, Burkina Faso – local band playing in a bar
(reimagined composition by Emmanuel Witzthum)
44.02-44.53: Mexico City, Mexico – band plays a traditional song in the street during the Covid-19 lockdowns
(reimagined composition by Abhishek Sekhri)
44.53-46.01: St. Louis, Senegal – anti-Covid handwashing song plays on the radio
(reimagined composition by Antriksh Bali)
46.01-47.54: Havana, Cuba – classic Cuban streetscape
(reimagined composition by Wahinya Mwirikia with D-Empress Evoke)
47.54-49.40: Bogotá, Colombia – manifestants' protest denouncing corruption, 2019
(reimagined composition by Wijnand Bredewold)
49.40-50.49: Lima, Peru – city garden ambience
(reimagined composition by Steffen Kirchhoff)
50.49-52.38: Rio de Janeiro, Brazil – pot-banging panelao protest against Bolsonaro
(reimagined composition by Maddie Baird)
52.38-54.47: Santiago, Chile – chinchineros traditional street drumming performance
(reimagined composition by Museleon)
54.47-56.14: Buenos Aires, Argentina – musical decontamination march
(reimagined composition by Neil Spencer Bruce)


Part of the Well-Being Cities project, a unique collaboration between Cities and Memory and C40, a global network of mayors of nearly 100 world-leading cities collaborating to deliver the urgent action needed right now to confront the climate crisis. The project was originally presented at the C40 Cities conference in Buenos Aires in 2022. Explore Well-Being Cities in full at
https://citiesandmemory.com/wellbeing-cities/