Dave Willis & Casper Kelly Your Pretty Face "The Cartoon" and Clerks 3 with Ming Chen
Season 7, Episode 43,
Oct 29, 2022, 02:11 PM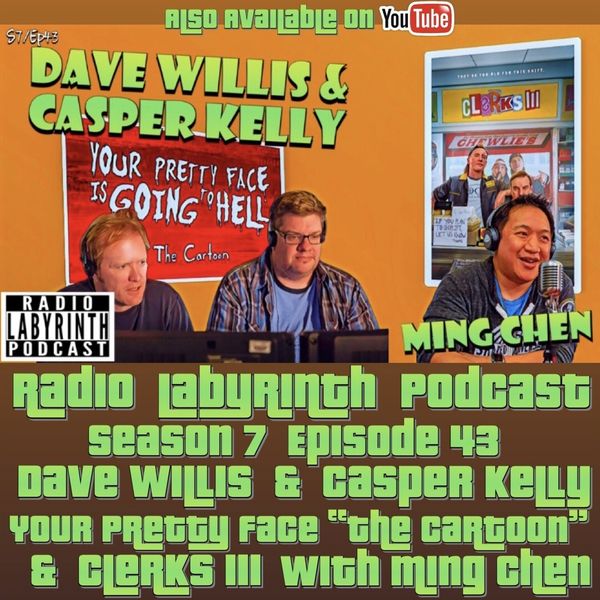 This week the Labyrinth has a full house. First we have Casper Kelly and Dave Willis stopping by to talk about the all new Your Pretty Face is Going to Hell The Cartoon available now on the Adult Swim YouTube channel.
And we also get a visit from friend of the show Ming Chen who we will be seeing next week at Coosacon in Rome, GA. Ming also talks about his time filming Kevin Smith's most recent project Clerks 3. And some news about maybe a new addition to the TESD studios.
And of course we are able to cram in What We Watched This Week, some pop culture news, Who Died? and we take a look at what to watch next week on Views or Snooze?
Thanks again for joining us this week, remember to Like, Subscribe on YouTube, Rate and Review us on Spotify and as always… Keep it Canon!
Your Pretty Face Is Going To Hell: The Cartoon
https://www.youtube.com/adultswim1
Check Out Ming Chen at
https://www.ashareduniverse.com/
#YourPrettyFaceTheCartoon #DaveWillis #CasperKelly #MingChen #Clerks3 #ATHF #Coosacon #Halloween #Coosacon2022 #CartoonNetwork #AdultSwim
#GenX #PopcastwithTimAndrews #Atlanta #Radio #RadioLabyrinthPodcast
—————————————————————————
YouTube version of this Podcast:
https://youtu.be/AbHMNCYug-E
—————————————————————————
Guests: Casper Kelly - Dave Willis - Ming Chen
Hosts: Tim Andrews, Jeff Leiboff and Dustin Lollar
Music by Karl Casey @ White Bat Audio
Drone Photos courtesy of Featherstone Photography
Video & Audio edited and produced by Dustin Lollar
—————————————————————————
Follow our YouTube page! Like and Subscribe!
https://www.youtube.com/radiolabyrinthpodcast
—————————————————————————
Become a Radio Labyrinth Patron!
https://www.patreon.com/Timandrews
—————————————————————————
Radio Labyrinth Social Media:
Twitter -
https://twitter.com/radio_labyrinth
Facebook -
https://www.facebook.com/radiolabyrinth/
Instagram - @RadioLabyrinthPresents and @RadioLabyrinth
TikTok - @RLPodcast
—————————————————————————
We love our sponsors!
Atlanta Pizza & Gyro
http://www.atlantapizzagyro.com/
https://www.facebook.com/atlpizza/
LDI REPRO PRINTING OF ATHENS
CALL 706-316-9366
OR EMAIL THEM AT
ATHENS@LDILINE.COM
.
—————————————————————————
THANK YOU SO MUCH TO ALL OF OUR RADIO PRODUCERS & PATRONS!
Thanks to our Radio Labyrinth Producers: Brett Perkins, Terri Fuller, Bryan & Chelsey Smith, Marty Johnson, Tim Slaton, Mike Hall, Shawn Hall, Chad Shepperd, Andrew Hopkins, Todd Ellis, Melissa Knowles, Erick Malmstrom, Mike D, Matt Carter, Robey Neeley & Keith Tait.
And thank you to all of our awesome Patreon Patrons: Hemp Huntress, Tracy McCoy, Emily Warren, Buck Monterey, Randy Reeves, Robey Neeley, Robert Kerns, Wayne Blair, Sherrie Dougherty, Rusty Weinberg, Michael Einhaus, Mark Weilandt, Leslie Haynie, Kevin Stokes, Jesse Rusinski, Jeremy Truman, Jeff Peterson, Herb Lamb, Gwynne Ketcham, Denise Reynolds, David C Funk, Collin Omen, Christopher Doerr, Chris Weilandt, Chris Cosentino, Brian Jackson, Brennon Price, Andrew Mulazzi, Andrew Harbin, Amber Gilpatrick, Alan Barker, Aaron Roberts, Walt Murray PI, Sam Wells, Ryan Wilson, Lou Coniglio, Kevin Schwartz, Gus Turner, Scott Augustine, Jonathan Wilson.