November 1989 Fashion Etc.: Loungin', Thanks & Shades Of Fragrance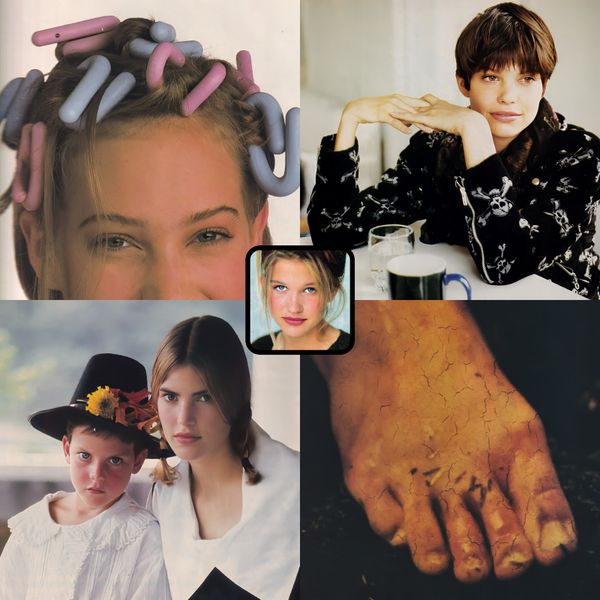 Pam returns to join the discussion on beauty gadgets, Amish style, and more!
Having bid adieu to our dear guest co-hosts Kim and Megan, we welcome back Pam for the November 1989 Fashion Etc. episode. Fashion spreads tell us how to dress like a pilgrim, or a rodeo queen (?), or in a jacket. Karen does an exposé on how worthless your expensive modeling school education actually is. The lone beauty story tries to show us what...smells......look like. There's also beauty gadget trials, an update on how to wear your jeans, curly hair makeovers, some very emotional letters, and so much more!
QUICK LINKS

🗒
Full episode notes can be found on this episode's page on ListenToSassy.com

🖼️
View select scans from this issue in this episode's Visual Aids

☎️
Call The Hotline! Leave your questions, comments and Sassy stories on the hotline at 720-SASSY-GO or record directly on our site

🐦
@ListenToSassy on Twitter

📷
@ListenToSassy on Instagram

🧑‍💻
Visit our website ListenToSassy.com

JOIN THE LTS CLUB AND GET THE GOODIES

📖 Full cover-to-cover magazine PDFs
💬 Chat with us and your fellow listeners on Discord
🐣 Get episodes earlier than the general public
👀 Monthly watch-alongs of Sassy-era movies and TV specials
🚫 Ad free episodes with chapter markers
👚 Merch discounts and free stickers
🤩
Join the Listen To Sassy Club today!

TOPICS

🎧 It Is November 1989
🎧 Cover
🎧 Fashion Feature: Loungin'
🎧 Fashion Feature: A Modeling School Story You're Not Gonna Like
🎧 Fashion Feature: Time To Give Thanks
🎧 Fashion Feature: Rodeo Circuit Blues
🎧 What Next: Hug Those Hips
🎧 Beauty Feature: Shades Of Fragrance
🎧 About Face
🎧 We Try It: Beauty Gadgets
🎧 Zits And Stuff
🎧 One Sassy Ad
🎧 Sassy Club
🎧 Diary: How To Be A Metalhead
🎧 Say What
🎧 Goodbye For Now
🎧 Wearing A Cow Print
🎧 Strike Fast. Strike Hard. No Mercy.
🎧 Electric Shavers
🎧 What's Going On
🎧 Head Of Talks & Ideas Chip Rolley
🎧 Pam Taking A Shit Or Something
NOTES

⚠️
Inline notes below may be truncated due to podcast feed character limits. Full notes are always on the episode page.

👠
"The Guy Who Teaches The Girls To Glide" at WashingtonPost.com

🪶
"Black Crowe Flies Solo Toward 'Sun'" at BostonHerald.com

📸
Emma Snowball on Instagram

💁‍♀️
Our February 1989 Fashion Etc. episode, in which Karen wrote about trying to become a model herself

👔
"A Hard Look At The Original Modelizer" at TheCut.com

🕹️
"American" names according to the Japanese designer of a '90s baseball video game, on Reddit

👃
BIC fragrances on Parfumo.net

📰
"'Most Unforgettable Woman' Is A 'Child Of Dust'" at Sun-Sentinel.com

👩‍⚖️
Mary Xinh Nguyen on Avvo.com

💅
Lady Remington's Smooth & Shapely Nailcare System on eBay

💨
DazzleDry.com

🚫
"The 15-year-old Girl Who Couldn't Stop Eating Hair!" on DailyMail.co.uk

🛹
Vision/Gale Webb sticker on eBay

📷
Gale Webb's photography on SkatingFashionista.com

🛝
Report on the opening of Menifee's Gale Webb Action Sports Park at PublicCEO.com

📚
Gale Webb on WomensMXHistory.com

👩‍💻
Future home of the Wearing Gale Webb's As A Skin Suit Tribute Site.

❤️‍🔥
The October 1989 quiz: Rate Your Self-Destructiveness

🛍️
The November 1989 quiz: Rate Your Mall Knowledge

📺
Tara's spring 2023 TV preview at GQ.com

🍆
My Year Of Dicks on Vimeo.com