10x06: Apartment 13 - Let's Not Meet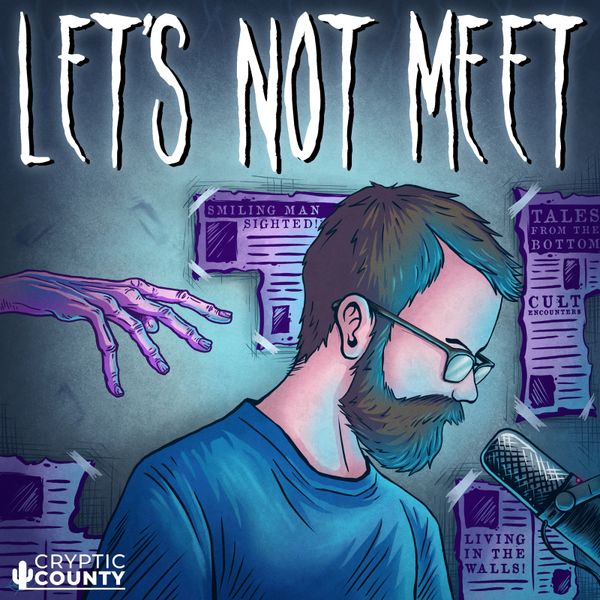 Stories in this episode:
- I Hid in my Bathroom in the Midst of a Home Invastion, by happyghostpogs (0:49)
- Creepy Guy at Dollar General, by CurlyQ (6:26)
- A**holes by the Seaside, by Anonymous (13:11)
- I Posted About My Stalker Online and He Found It, by Upset_Zucchini6687 (19:39)
- The Work Stalker, by So-Nora (30:07)
- He Said He Lived in Apartment 13, by sunseeker arch (38:37)
- Old Man at the Mall, by Nyx (46:25)
Extended Patreon Content:
- Serial Stalker on Campus, by psychicStrawberries
- Bookie, by Li
- Sal, Saul, Sid or Something, by Siobhan
All of the stories you've heard this week were narrated and produced with the permission of their respective authors. Let's Not Meet: A True Horror Podcast is
not
associated with Reddit or any other message boards online. To submit your story to the show, send it to letsnotmeetstories@gmail.com.  
Get access to extended, ad-free episodes of Let's Not Meet: A True Horror Podcast with bonus stories every week at a higher bitrate along with a bunch of other great exclusive material and merch at
patreon.com/letsnotmeetpodcast
. This podcast would not be possible to continue at this rate without the help of the support of the legendary LNM Patrons. Come join the family!
Check out the other Cryptic County podcasts like Odd Trails, Welcome to Paradise (It Sucks), and the Old Time Radiocast at
CrypticCountyPodcasts.com
or wherever you get your podcasts!
Check out the Vessi Cloudburst and other styles at
vessi.com/MEET
. Use code
MEET
for 15% off your order. Free shipping for CA, US, AU, JP, TW, KR, SGP.
Turn your food waste into dirt with the press of a button with Lomi. Use the code
MEET
to save $50 at
lomi.com/meet
. 
Check out Love & Pies,
free to download
in the App Store or Google Play today!
- Facebook -
https://www.facebook.com/groups/433173970399259/
- Website -
https://letsnotmeetpodcast.com
- Patreon -
https://patreon.com/letsnotmeetpodcast
- Instagram -
https://www.instagram.com/letsnotmeetcast/
- Twitch -
https://twitch.tv/crypticcounty