Cry Little Sister...it's our 10th Anniversary!
Episode 245,
Apr 02, 04:23 AM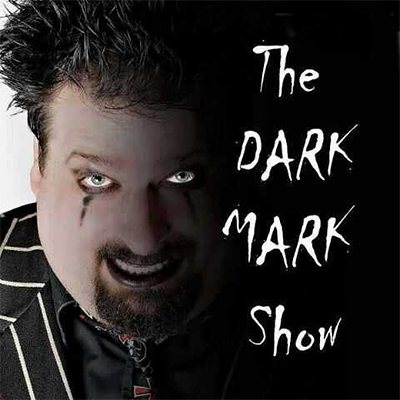 Anniversary, G Tom Mac, Gerald McMahon, Sin Twisted, Sin Fisted, Arthur the Magic Savage, Josi Kat, 2014, Cry Little Sister, magic
This is no April Fool's joke, it is the 10th (!) Anniversary of The Dark Mark Show.
In honor of that, we present our very first Anniversary show way back in 2014, featuring legendary singer G Tom Mac, Sin Twisted and Arthur the Magic Savage, as well as then cohost Josi Kat.
Singer/Songwriter G Tom Mac, Performance Artist/Contortionist Sin Twisted and magician Arthur Gomez joined Mark and Josi for a wild party as The Dark Mark Show celebrated its 1 year anniversary.
G Tom Mac talked about his extraordinary career, which has included working with Kiss, Roger Daltrey and Chicago. He relayed stories about Ice Cube mispronouncing his name but digging his beats so much he put him on the soundtrack of The Players Club, Eminem being a fan of his, being on the soundtrack of many movies including Fast Times at Ridgemont High (Mark held up his vinyl copy for proof) and talked about the eternal appeal of his best known song Cry Little Sister, how it is the ultimate vampire song that won't die, and G played an amazing acoustic version of CLS with Josi and Sin on backup vocals.
Sin talked about blowing minds with recent burlesque performances as Dr. Frank N Furter from Rocky Horror and Marilyn Manson, shot sparks from her grinder at Dark Mark, compared flexibility with G and ate cake with her prize winning feet.
Arthur arrived with his entourage. He talked about how Chriss Angel inspired him to do magic, how women seem to be more willing to do magic than men are, how nervous he was performing at the Magic Castle for the first time and amazing everyone in the studio with a card trick that involved the 14 of hearts (?)
Get some
Dark Mark Show gear
Go to
www.teepublic.com/user/dms1
for shirts, mugs, phone/laptop covers, masks and more!
This show is sponsored by:
Eddie by Giddy
FDA Class II medical device built to treat erectile dysfunction and performance unpredictability. Eddie is specifically engineered to promote firmer and longer-lasting erections by working with the body's physiology.
Get rock hard erections the natural way again.
Using promo code DARKMARK20, you can save 20% on your Eddie purchase, and you and your partner will be chanting incantations of ecstasy together faster than you can say "REDRUM."
Go to
buyeddie.com/DarkMark
for 20% off your purchase using code DARKMARK20 today.
Raze Energy Drinks
Go to
https://bit.ly/2VMoqkk
and put in the coupon code DMS for 15% off the best energy drinks. Zero calories. Zero carbs. Zero crash
Renagade CBD
Go to
renagadecbd.com
for all of your CBD needs
Tactical Soap
Smell Great with Pheromone infused products and drive women wild with desire!
Go to
https://grondyke-soap-company.myshopify.com/?rfsn=7187911.8cecdba