Episode #82 – The Sun and the Stars Aligned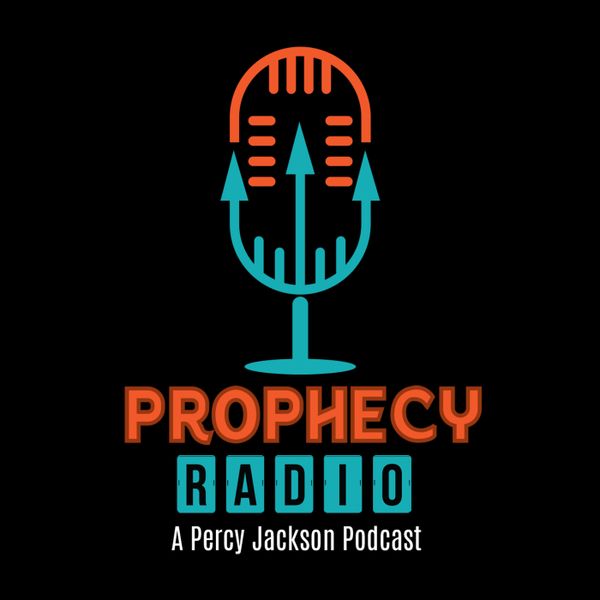 Prophecy Radio episode #82 regales you with every detail Karen can remember about the Sun and the Star Boston tour stop with Rick Riordan and Mark Oshiro. We also discuss all the latest Riordanverse news, including the updated covers for The Lightning Thief, The Lightning Thief: The Graphic Novel, and Camp Half-Blood Confidential. Lastly, we continue our journey through The Kane Chronicles with The Red Pyramid chapter 9! Remember, we're keeping this discussion spoiler-free! New episodes of Prophecy Radio air weekly, and we keep our discussions PG-13.

News and updates (00:03:43)


The Sun and the Star by Rick Riordan and Mark Oshiro is officially out in the world!
You can read Karen's The Sun and the Star book review right here on Subjectify.
AJ Beckles is the solo narrator for the book.
Did you know that The Titan's Curse came out on May 1, 2007?
Check out this Mary Sue interview, but be warned that it contains spoilers!
Rick has seen early versions of the Percy Jackson and the Olympians PR material!
We discuss the updated covers for The Lightning Thief, The Lightning Thief: The Graphic Novel, and Camp Half-Blood Confidential.
The next book from Rick Riordan Presents will be The Last Canto of Dead by Daniel José Older, out May 16.
Congratulations to Daniel for being nominated for a Locus Award for Ballad & Dagger.
Did you see that Velinxi was the surprise artist for the May Rainbow Crate, which features The Sun and the Star?
Kristen gives us a great breakdown of the WGA on strike and what this means for all of Rick's adaptation projects.
Jake Abel also had some thoughts on the subject!
We'll keep you up to date on the strike going forward!
The Sun and the Star book tour — Boston (00:33:34)


Karen details her night at the Boston tour stop!
Go follow Liam T. Crowley on Twitter if you haven't already.
It was awesome seeing Rick and Mark BUT KAREN GOT TO SEE BECKY.
We are not going to include the interview in this week's episode for some very valid reasons, and we promise the wait will be worth it!
Karen almost walked out on stage on accident! And she almost didn't get her signed copy!
Mark and Rick were both fantastic, but tbh Steph Lurie stole the show.
This show was so amazing, and the energy levels never dropped, from start to finish.
Why did Rick choose Mark to co-write this book with him?
Can you guess the title of Mark's first book, which they wrote when they were nine?
Mark drew the map that ended up on the endpapers, and the original version is hilarious and amazing.
They were each asked which part of the book was their favorite.
Becky came out on stage, and the crowd went wild!
Karen teases the interview for the first time, but definitely not the last.
Go read books from Rick Riordan Presents!
Everyone loves Roshani Chokshi, as they should!!
Don't forget that there are still graphic novels of Rick's books coming out!
Everyone is super excited for the Kane Chronicles movie, and that made us so happy!
We discuss the possibility that the Kane Chronicles movie might not get made (but we agree with Rick that we're guardedly optimistic it will!).
What about the Daughter of the Deep movie adaptation?
Unsurprisingly, everyone is super, super excited about the Percy Jackson and the Olympians show on Disney+.
Rick said his first reaction to seeing the principal photography was relief.
Rick has learned so much from Mark's writing!
Mark also got to talk about all of their books that they've published!
Could you ever write the last line of a book first?
How long has Rick known that Nico was gay?
Prophecy Radio totally got a name drop during the event!
You'd be surprised which is Mark's favorite dinosaur.
Which gods would be their parents?
Knowing which characters would be a Swiftie is apparently a big deal.
Karen teases the interview once again, but it's going to be totally worth it!
Did you see the selfie from the Boston tour stop?
Stay tuned for our upcoming giveaway!
The Kane Chronicles: The Red Pyramid (01:30:00)


This week, we're reading The Red Pyramid chapter 9.
Who could be sabotaging the House and the kids?
Wouldn't it be amazing to have a cat network?
Bast is pretty spectacular, and we can't wait to see more of her.
Who are the Carriers, and what is their purpose?
We learn a little bit more about Bast and how her powers work.
Does the Mist exist in this world, or is it something else?
What's going on with Bast's role in the Kane siblings' mother's death?
Feedback (01:46:36)


Thank you for listening to the show, Teddy, and Karen is so sorry she couldn't meet you!
Hope you had fun at the show, Elizabeth!
And thank you to everyone else for the kind words about interviewing Rick and Mark!
LJ wrote in with some wild theories about The Sun and the Star.
We rectify a major mistake and read out Henry's The Sun and the Star theory.
TJ writes in with some kind words about the podcast and asks us a very important question, which is accompanied by a super cute picture.
Crystal is super excited for The Sun and the Star, and that makes us so happy!
Thanks for listening, and tune in next time for episode 83, where we'll talk about
The Sun and the Star
(with spoiler-free AND spoiler-filled sections), plus an interview with Rick Riordan and Mark Oshiro.
This episode's hosts are:
Karen Rought
and
Kristen Kranz.

Each episode, our
Prophecy Radio
hosts and their guests will keep you up to date on the latest information coming out of Camp Half-Blood, including upcoming books and adaptation news, discuss a topic of choice, and do a chapter by chapter reread of the Percy Jackson series.
Follow Us:
Twitter
//
Instagram
//
Facebook
//
Tumblr

Listen and Subscribe:
Audioboom
//
Apple
//
Spotify

Feel free to leave us your questions or comments through any of these mediums! You can also email us at
prophecyradiopodcast@gmail.com
or visit
our homepage
for archives and more information about our show.
Prophecy Radio
is a Subjectify Media podcast production. Visit
Subjectify Media
for more shows, including
Not Another Teen Wolf Podcast
,
ReWatchable
, and
Not About The Weather
, and for all our latest articles about the stories we're passionate about.