Top 5 Most Read RNS's on Vox Markets for Thursday 11th May 2023
Episode 1411,
May 11, 07:22 AM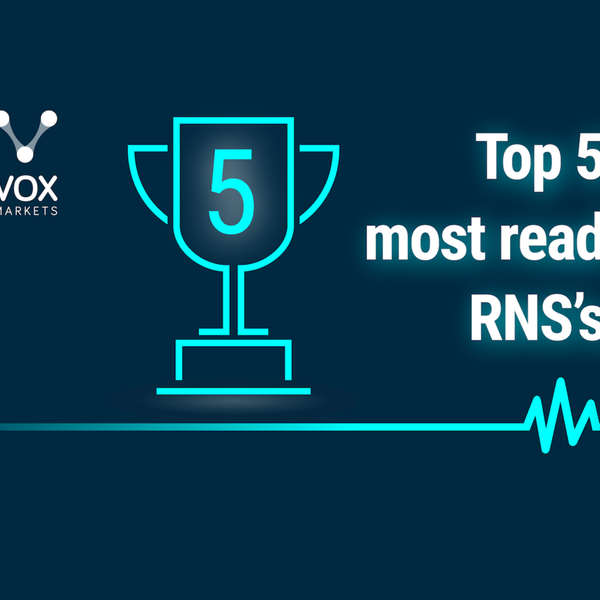 Top 5 Most Read RNS's on Vox Markets for Thursday 11th May 2023
1. Rolls-Royce Holdings #RR. -
AGM Statement and Trading Update

Our financial performance is in line with our expectations at the time of the full year results on 23 February.
Our underlying operating profit guidance of £0.8-£1.0bn and free cash flow guidance of £0.6-£0.8bn in 2023 is unchanged.
We anticipate our free cash flow generation will be seasonally weighted in the second half of the year, as previously indicated.
2. ITV PLC #ITV -
ITV plc Q1 Trading Update

Total external revenue down 7% at £776 million (2022: £834 million)
Total ITV Studios revenue, including the benefit of foreign exchange, was flat at £457 million (2022: £458 million) with the phasing of deliveries in 2023 expected to be weighted to the second half
Digital advertising revenue was up 30% at £87 million compared to the same period in 2022,
ITVX, the free, ad-funded streaming service, continued to perform strongly. Total digital revenues were up 29% and total streaming hours were up 49% in Q1.
3. Ilika plc #IKA -
First Customer Shipments of Stereax M300 Batteries

Ilika announces it has made a number of first customer shipments of stacked Stereax® M300 batteries from its UK manufacturing facility.
These shipments are the first of a series of planned deliveries of Stereax M300 batteries to customers including CubeWorks, the developer of millimeter-scale smart sensing solutions for IoT, and Lura Health, a leading developer of wearable intraoral biosensors for salivary diagnostics.
4. SDI Group #SDI -
Trading Update

We expect revenues to be approximately £69m (FY22: £49.7m).
We are also pleased with the contributions from acquired businesses LTE Scientific (acquired July 2022), Fraser Anti-Static Techniques (acquired October 2022), and a full year's contribution from both Scientific Vacuum Systems (January 2022) and Safelab Systems (March 2022).
Adjusted Profit Before Tax2 is expected to be in the region of £11.8m (FY22: £11.8m), in line with current market expectations1.
5. PetroTal Corp. #PTAL -
Q1 2023 Financial and Operating Results

Q1 2023 Selected Highlights
· Achieved average quarterly sales of 12,618 barrels of oil per day, up 21% from the fourth quarter ("Q4") of 2022;
· Delivered monthly record sales in March 2023, with over 660,000 bbls of oil sold through Brazil and to the Iquitos refinery;
· Fully repaid the remaining $80 million in corporate bonds in the first quarter of 2023, paving the way for a significant dividend and share buyback program to commence in the second quarter of 2023;