TWIN PETES INVESTING Podcast no.101: TwinPetesInvesting Challenge April winner, Generative AI, Wood Group THG Grainger Purplebricks Carvana Cazoo, Tirupati Graphite, Harbour Energy, RMV ASLI INSG HEMO DKL OTB ZYT WOSG MPAC RCH Investing Trading Charity &
Episode 154,
May 20, 12:17 PM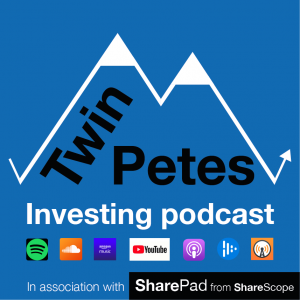 The topics, stocks and shares mentions / discussed include:
TWIN PETES INVESTING CHALLENGE APRIL PORTFOLIO PRIZE WINNER
Artificial Intelligence / AI
Generative AI
Grainger / GRI
Aberdeen European Logistics Income / ASLI
Tirupati Graphite / TGR
Private Equity
Takeovers / Profit warnings
Wood Group / Apollo Asset Management
THG
Online Disruptors
Purplebricks / PURP / Strike
Rightmove / RMV
ZOOPLA
Carvana / CVNA
Cazoo / CZOO
On the Beach / OTB
Restore / RST
FTSE 100
AIM All-Share
US Debt Ceiling
MPAC
Zytronic / ZYT
Reach / RCH
Watches of Switzerland / WOSG
Hemogenyx Pharmaceuticals / HEMO
Insig AI / INSG
Shield Therapeutics / STX
Harbour Energy / HBR
Dekel Agri-Vision / DKL
S4 Capital / SFOR
Accounting / Auditing issues
Algy Hall new book & how to win a copy
@algyhall | Linktree
UK Investor Show on 9th June 2023 will you be attending?

Profits
Harriman House books

Powder Monkey Brewing Co 5% discount code
: TWINPETES
Menphys Charity Appeal please make a donation on the
TwinPetes Investing Challenge 2023 Just Giving Page

Investing
Trading
& much more
The Twin Petes Challenge 2023 / Charity fundraise for the MENPHYS Charity. Have you enjoyed one or more of these podcasts. Yes . Then please make a donation , every pound will help. JUST GIVING TWIN PETES FUNDRAISING FOR THE MENPHYS CHARITY
https://www.justgiving.com/fundraising/twinpeteschallenge23
Thank you.
The Twin Petes Investing podcasts will be linked to and written about on the
Conkers3 website
and also on the
WheelieDealer website
. Thank you for reading this article and listening to this podcast, we hope you enjoyed it. Please share this article with others that you know will find it of interest. PLEASE SUBSCRIBE TO THE TWIN PETES INVESTING PLATFORM THAT YOU ARE LISTENING TO THIS PODCAST ON. THANK YOU.