Memorial Day Movies
Season 8, Episode 21,
May 27, 11:58 AM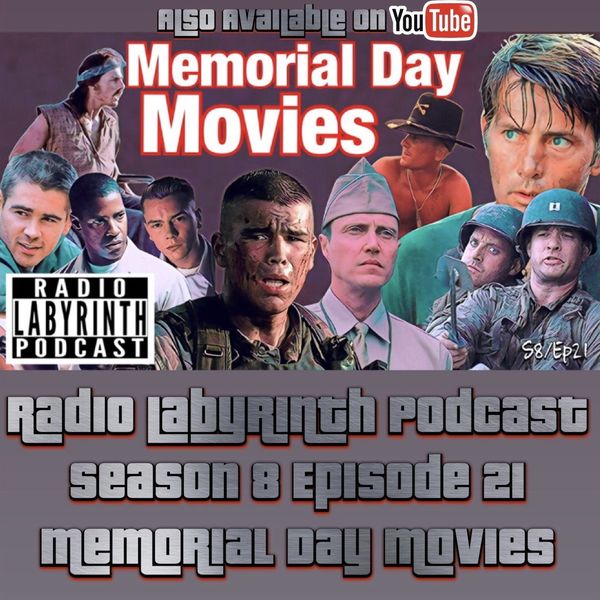 Get ready for an exciting episode of the Radio Labyrinth Podcast! This week, we're diving into Memorial Day movies, exploring stories of war and honoring those we've lost. Join us as we share our own childhood memories of this special day.
We also pay tribute to the legendary Tina Turner and the talented Ray Stevenson, who recently passed away. Additionally, we ponder a fascinating "what if" scenario: What if Elon Musk bought Radio Labyrinth for a whopping $40 million? The possibilities are mind-boggling!
In our "Views or Snooze" segment, we recommend some fantastic shows and movies for you to check out. Plus, our staff picks will give you even more great recommendations.
Whether you're a long-time listener or new to the podcast, we appreciate your support. Don't forget to hit the like and subscribe button on YouTube or leave a rating on Spotify. Your support means the world to us as we continue to provide interviews, insights, and entertainment news about the hottest movies and TV shows.
Stay tuned to the Radio Labyrinth Podcast and Keep It Canon!
———————————————————————————————————
Dan Fogler @ The Dynamic Eldorado Show -
https://dynamiceldorado.fourthwalltickets.com/shows/the-pantheon
28 Best Memorial Day Movies -
https://www.rd.com/list/memorial-day-movies/
Norm MacDonald YouTube Video -
https://youtu.be/F_3-ZPK13cA
———————————————————————————————————
#MemorialDayMovies #RayStevenson #WarMovies #WarFilms #TVShows #Satire #Comedy #GenX #GenXer #RadioLabyrinthPodcast #Radio #AtlantaRadio #Atlanta #MovieReviews #TVReviews #ComedyPodcast #SatiricalHumor #AI #WGAStrike #PodcastRecommendations #YouTubePodcast #KeepItCanon #LikeAndSubscribe #RadioLabyrinth
———————————————————————————————————
YouTube version of this Podcast:
https://youtu.be/-FpnBYQcTqQ
———————————————————————————————————
Hosts: Tim Andrews, Jeff Leiboff, Steph Swain and Dustin Lollar
Audio & Video Edited by Dustin Lollar
THANK YOU SO MUCH TO ALL OF OUR RADIO PRODUCERS & PATRONS!
Thanks to our Radio Labyrinth Producers:Tim Slaton, Bryan Smith, Chelsey Smith, Kevin Jackson, Jim Fortner, Brett Perkins, Terri Fuller, Chris Chandler, Mike Hall, Mike D, Matt Carter & Robey Neeley
And thank you to all of our awesome Patreon Patrons: Hemp Huntress, Tracy McCoy, Emily Warren, Buck Monterey, Randy Reeves, Robey Neeley, Robert Kerns, Wayne Blair, Sherrie Dougherty, Rusty Weinberg, Michael Einhaus, Mark Weilandt, Leslie Haynie, Kevin Stokes, Jesse Rusinski, Jeremy Truman, Jeff Peterson, Herb Lamb, Gwynne Ketcham, Denise Reynolds, David C Funk, Collin Omen, Christopher Doerr, Chris Weilandt, Chris Cosentino, Erick Malmstrom, Brian Jackson, Brennon Price, Andrew Mulazzi, Andrew Harbin, Amber Gilpatrick, Alan Barker, Aaron Roberts, Walt Murray PI, Sam Wells, Ryan Wilson, Lou Coniglio, Kevin Schwartz, Gus Turner, Jim Fortner, Scott Augustine, Jonathan Wilson, Cynthia Hadaway and Dave Benson