10x16: Weird As a Box of Hair - Let's Not Meet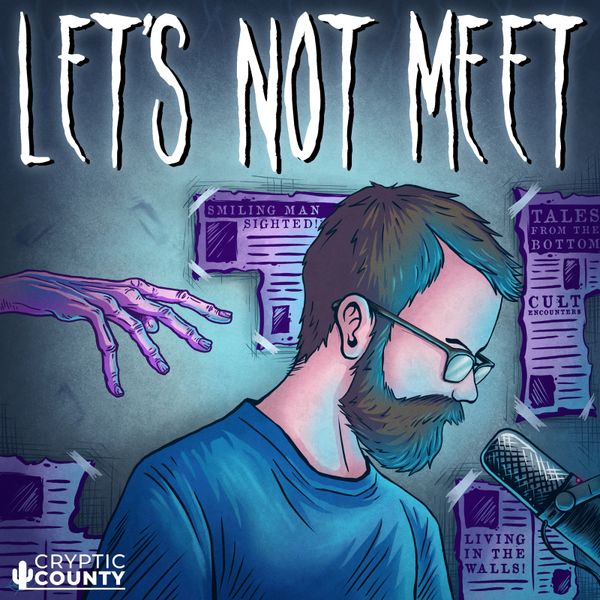 Stories in this episode:
 - Why Go To Six Flags When You Can Have Red Flags? by Anonymous (0:52)
- Weird As a Box of Hair by P-Dub (12:15)
- Train Ride in the Blue Mountains by Torrie (18:17)
- Highway to Hell by Chris (23:25)
- Yard Work Helper Turned Harasser by Julie (30:51)
- The Smoking Man by Karli (35:29)
- The Man with the Blue Eyes by Donna (39:37)
Extended Patreon Content:
- Inmate Wade and Inmate Grissom by Correctional Officer
- The Tourniquet Killer by Anonymous
- Cautionary Tales by Claudia from the UK
- Coffee Date Catastrophe by Neelashi
Due to periodic changes in ad placement, time-stamps are are estimates
.
All of the stories you've heard this week were narrated and produced with the permission of their respective authors. Let's Not Meet: A True Horror Podcast is
not
associated with Reddit or any other message boards online. To submit your story to the show, send it to letsnotmeetstories@gmail.com.  
 Get access to extended, ad-free episodes of Let's Not Meet: A True Horror Podcast with bonus stories every week at a higher bitrate along with a bunch of other great exclusive material and merch at
patreon.com/letsnotmeetpodcast
. This podcast would not be possible to continue at this rate without the help of the support of the legendary LNM Patrons. Come join the family!
Check out the other Cryptic County podcasts like Odd Trails, Welcome to Paradise (It Sucks), and the Old Time Radiocast at
CrypticCountyPodcasts.com
or wherever you get your podcasts!
Join me at
twitch.tv/crypticcounty
if you dare!
- Facebook -
https://www.facebook.com/groups/433173970399259/
- Website -
https://letsnotmeetpodcast.com
- Patreon -
https://patreon.com/letsnotmeetpodcast
- Instagram -
https://www.instagram.com/letsnotmeetcast/
- Twitch -
https://twitch.tv/crypticcounty