An Audio Accompaniment to Infamous on at the Jermyn Street Theatre until Oct 7th 2023
Episode 69,
Sep 14, 01:35 AM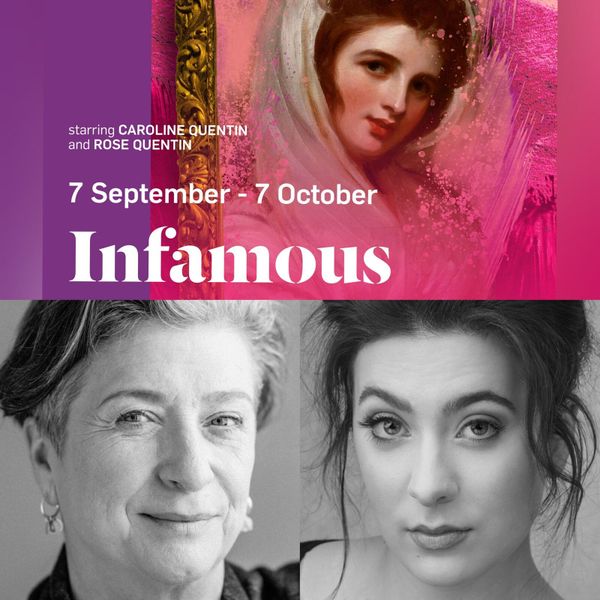 Welcome to this special online audio accompaniment to the world premiere of Infamous by April De Angelis directed by Michael Oakley which is on at the Jermyn street theatre an intimate studio venue of 74 seats near Piccadilly in the West end on until the 7th of October 2023 with performances Monday to Saturday at 730pm and Matinees on Tuesday and Saturday at 3pm.

The performance lasts for 2 hours including an interval.

This audio accompaniment includes information on the play, summary, characters, Set, props and costume, plus theatre and access information, we also hear from the writer and director about the inspiration for the play and some of the visual elements and the cast describe their characters.

 This special online audio accompaniment is written, and presented by Tim Calvert in of Calvert Creative Concepts for the Jermyn street theatre.

A Summary of Infamous

Emma Hamilton is the name on everyone's lips. Her Attitudes are the latest dance craze sweeping Europe, inspiring a generation of artists from Romney to Goethe. But Emma doesn't want to be somebody's muse – she wants to be the somebody. With rumours of Nelson's imminent arrival swirling around Naples, Emma knows exactly which pose to strike to catch his attention and leave her mark on history. Or so she thinks…

The extraordinary life of Emma Hamilton bursts out of the history books and onto the stage in this witty and vivacious world premiere. April De Angelis reunites with director Michael Oakley to set the record straight on one of the most famous figures in Georgian society. Olivier Award-nominated Caroline Quentin stars alongside her daughter Rose Quentin, and Riad Richie.