Pop Canceled This Week
Season 8, Episode 36,
Sep 16, 12:10 PM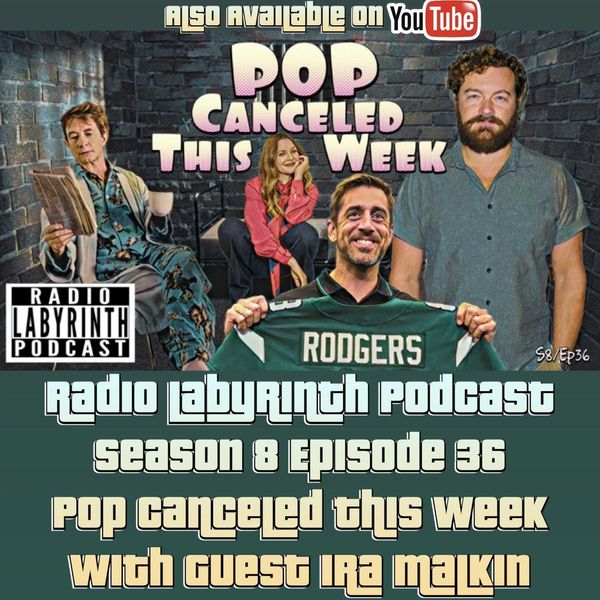 This week, we're thrilled to have a special guest appearance from none other than the original Radio Labyrinth Host, Ira Malkin. Ira swings by for a Dragon Con wrap-up segment and ends up sticking around for the entire show, making it a memorable reunion!
With the whole gang assembled, we dive into the hottest news topics of the week, including some scathing remarks about Martin Short and certain members of the cast of "That '70s Show." Cancel culture is in full swing, and we dissect some of the controversies.
Speaking of Danny Masterson, his recent trial has resulted in a guilty verdict dating back 15 years, leading to serious prison time ahead. We also discuss Drew Barrymore's ascent to the throne of SCABS and Amy Schumer's cyberbullying incident involving Nicole Kidman, who was deemed a Stepford Wife.
Redd Boxx brings us a bizarre story involving an 800-year-old mummy discovered in an airline passenger's carry-on luggage, adding a touch of the extraordinary to our discussions.
As always, we've prepared our signature segments for you, including "Views or Snooze" and "Staff Picks," featuring the hottest recommendations of the week.
If you're enjoying our podcast, please consider giving us a thumbs-up, hitting that subscribe button, and leaving a positive rating on Spotify. Join us for a laid-back journey through the world of pop culture on Radio Labyrinth, where we're committed to Keeping It Canon!
————————————————————
YouTube version of this Podcast:
https://youtu.be/RprsV-GI_LU
————————————————————
Become a Radio Labyrinth Patron!
https://www.patreon.com/Timandrews
For Exclusive Content available first for our Patreon Patrons!
Steph's Walk:
https://www2.jdrf.org/site/TR?fr_id=9210&pg=personal&px=13639377&fbclid=IwAR1Km1gWP-kUxNXBmkBBPAhW1DMW1o06GEi2s-ohbh9rmks32SiRSoMR-FI
Tim's Cameo Link:
https://www.cameo.com/tandrewsatl?fbclid=IwAR3G-bUKfLDmT2SHY2zydO1NYb-Ss3fkYr037rhtuBFONYigw-_Vm1ZicYw
————————————————————
#DannyMasterson #AmySchumer #PopCultureBuzz #DragonCon #WelcomeToNightVale #CancelCulture #SpecialGuests #TrendingNews #Satire #Comedy #GenX #GenXer #RadioLabyrinthPodcast #Radio #AtlantaRadio #Atlanta #MartinShort 
————————————————————
Hosts: Tim Andrews, Jeff Leiboff, Steph Swain and Dustin Lollar
Audio & Video Edited by Dustin Lollar
Redd Boxx Puppet created by Mark Schrankel @WhoBuddiez.com
————————————————————
Social Media:
Twitter -
https://twitter.com/radio_labyrinth
Facebook -
https://www.facebook.com/radiolabyrinth/
Instagram - @RadioLabyrinthPresents and @RadioLabyrinth
TikTok - @RLPodcast
————————————————————
Atlanta Pizza & Gyro
http://www.atlantapizzagyro.com/
https://www.facebook.com/atlpizza/
LDI REPRO PRINTING OF ATHENS
CALL 706-316-9366
OR EMAIL THEM AT
ATHENS@LDILINE.COM
.
————————————————————
THANK YOU SO MUCH TO ALL OF OUR RADIO PRODUCERS & PATRONS!
Thanks to our Radio Labyrinth Producers: Jeff Peterson, Bryan Smith, Chelsey Smith, Kevin Jackson, Jim Fortner, Brett Perkins, Terri Fuller, Chris Chandler, Tim Slaton, Mike Hall, Mike D, Matt Carter & Robey Neeley  
And thank you to all of our awesome Patreon Patrons: Hemp Huntress, Tracy McCoy, Emily Warren, Buck Monterey, Randy Reeves, Robey Neeley, Robert Kerns, Wayne Blair, Sherrie Dougherty, Rusty Weinberg, Michael Einhaus, Mark Weilandt, Leslie Haynie, Kevin Stokes, Jesse Rusinski, Jeremy Truman, Jeff Peterson, Herb Lamb, Gwynne Ketcham, Denise Reynolds, David C Funk, Collin Omen, Christopher Doerr, Chris Weilandt, Chris Cosentino, Erick Malmstrom, Brian Jackson, Brennon Price, Andrew Mulazzi, Andrew Harbin, Amber Gilpatrick, Alan Barker, Aaron Roberts, Walt Murray PI, Sam Wells, Ryan Wilson, Lou Coniglio, Kevin Schwartz, Gus Turner, Jim Fortner, Scott Augustine, Jonathan Wilson, Tony Outlaw, Cynthia Hadaway and Dave Benson.