Every Job I Ever Had: Part 1 | Ep. 219 #GrownDadBusiness with Aaron Kleiber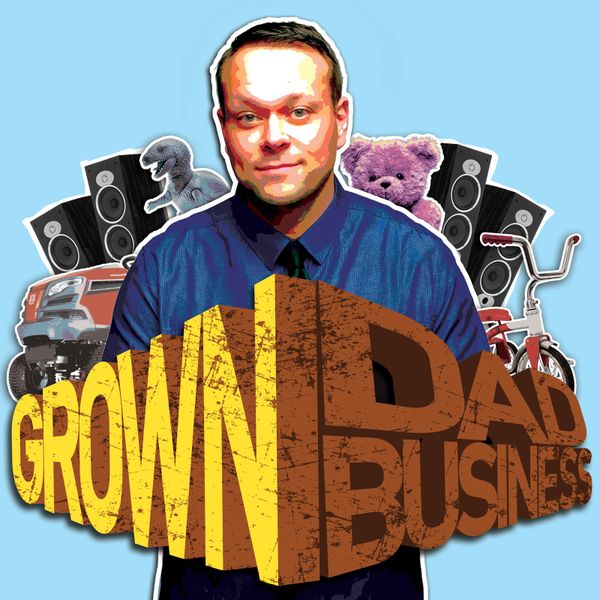 How did all the jobs you've ever had prepare you for NOW? Laugh our way thru every job Aaron has ever had - learn anything? or just good stories? Little a both.
"FollowFollow on FB/IG/Tk/Yt @AaronKleiber @GrownDadBusiness info, events, business inquiries
http://linktr.ee/AaronKleiber
--
Find the EARLY VIDEO, AUDIO & STANDUP on Patreon!
Please consider supporting monthly at
Patreon.com/AaronKleiber
subscribe, just like Netflix, to your fave creative people AND get exclusive content - Patreon/com/AaronKleiber
--
*Aaron's Amazon Comedy Special 'Grown @%$ Dad' is NOW streaming on YouTube! Audio album available on iTunes, Spotify, Pandora, IHeartRadio AND SiriusXM!
--
#GrownDadBusiness podcast with Aaron Kleiber
It's comedy, it's a podcast, it's a vibe.
Aaron Kleiber — comedian, actor, proud husband and father of three — hangs with funny n creative friends talm'bout comedy, parenting, food, culture, movies/tv, sharing stories and experiences. 200+ episodes EVERYWHERE you listen to podcasts - please subscribe to them all!
Title Instrumental theme ""King for a Day"" by Passion HiFi @Passion_HiFi
http://EvilTwinRecords.com
Produced/Edited by Aaron Kleiber; with Sam Sprunger of Lounge Media Group
copyright 2023 Aaron Kleiber
--
Aaron Kleiber has been entertaining his entire life — from climbing atop his grandmother's coffee table as a child and being voted class clown at Steel Valley High School - to playing make-believe in front of a camera or taking the stage at comedy clubs across North America today.
Aaron began his entertainment career producing, performing & writing sketch comedy, award-winning short films at Steel Valley High School in Homestead, PA with friend Chris Preksta (Mercury Men, Echo Torch, Pittsburgh Dad) - graduating to independently produced feature films, 'Captain Blasto' and 'A Great Disturbance' , garnering dozens of film festival awards and appearances. A short stint of ala carte classes at Second City, Chicago later and the birth of his first daughter, made a permanent home in Pittsburgh and try the 'solo sport' of stand-up comedy in 2009. Meanwhile, already adding dozens of memorable commercial credits and roles in major studio films to his performance resume.
First touring with Steve-O of Jackass fame and former 'Last Comic Standing' winner, Josh Blue - quickly breaking-out as one of the most in-demand opening acts - touring alongside the likes of Bob Saget, Brad Williams, Jim Breuer, John Witherspoon, Tammy Pescatelli, Bert Kriescher, Ralphie May and Harland Williams. 
Aaron made his nationally-televised stand-up comedy debut on 'Gotham Comedy Live' with Jim Breuer, Dean Edwards & Mitch Fatel - which was subsequently  included in the 'Best of Season 2.'  Shortly thereafter making his second appearance on 'Standup and Deliver' NUVO TV, filmed live during the Cabo Comedy Festival at Cabo Wabo, Mexico. Named a top 5 finalist in the Big Sky Comedy Festival, appeared at Gilda's Laugh Fest (Best of the Midwest), San Luis Obisbo SLO Fest, and twice at industry favorite Limestone Comedy Festival. When out west, a regular at the Hollywood Improv, Comedy, Laugh Factory & Magic Club of Hermosa Beach. His comedy podcast with over 200 episodes, 'Grown Dad Business' has been streamed over A MILLION times, with guests like Bob Saget, Paul Rodriguez, Bobcat Goldtwait, to name a few, and can be heard everywhere you listen to podcasts and now with video streamed on YouTube.
​A culmination of creating entertainment for over two decades, Aaron produced and premiered his own one-hour standup comedy special ""Grown @%$ Dad,"" premiering  on Amazon Prime in 2020, during the height of the pandemic, produced with Animal Studios and directed by Michael Killen of ABC's Downward Dog, reaching millions streaming thereafter. The audio concert album, mastered by Big Science Sound, has a regular rotation on SiriusXM, Pandora, Apple, IHeartRadio, Audacy & Spotify.
As a content creator, producer and creative consultant, Aaron has provided an array of creative for non-profits, studios, agencies  and major brands.
A native of Pittsburgh, Pennsylvania, Aaron has been a fixture in the city's booming comedy scene for the last decade - creating and performing hundreds of packed stand-up and variety shows 'Parent's Night Out,' with the Pittsburgh Improv; 'Comedy Sauce' in Bloomfield's Pleasure Bar; and the ever-popular and growing standup gameshow 'Standup Getdown,' at Arcade Comedy Theater, where Aaron served as stand-up programmer for it's first 5 years.
Named "Best Local Comedian" by Pittsburgh Magazine, City Paper, local media at least like 5or 6  times.
Aaron continues to create, cut grass and collect things he doesn't need in Pittsburgh, Pennsylvania with his wife Wendy and three children."