All Gas No Brakes 09/25/2023
Season 3, Episode 7,
Sep 25, 01:12 PM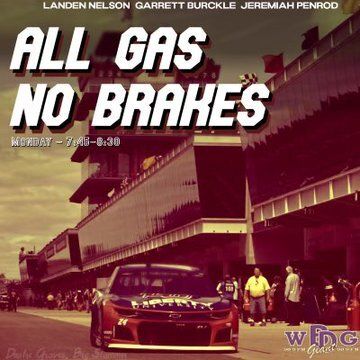 Landen Nelson, Jeremiah Penrod and Garrett Burckle discuss last weekends recap of racing news.

NASCAR Cup Series
Top 10 results from Texas Motor Speedway.
William Byron steals the victory and picks up his 6th win of the season.
Bubba Wallace Jr. and 23Xl Racing puts on a dominating performance.
Hendrick Motorsports captures their 300th win.
Bad luck strikes Kyle Larson, Kyle Busch and Ryan Blaney at Texas.
Playoff Points Standings.
Next race for the Round of 12 is at Talladega Superspeedway.

Formula One
Top 10 results from Japan.
Fantastic Performance by McLaren Racing.
Lando Norris finishes 2nd and Oscar Piastri finishes 3rd .
Oscar Piastri scores his first career podium.
Red Bull Racing is the 2023 Constructors Champions.
Plus win the Constructors Championship two years in a row.
Max Verstappen scores his 13th win of the season.
2024 Formula One Driver Line Up.
Who will be driving in the 2nd Seat at Williams Racing?
Next race is the Qatar Grand Prix.

NASCAR Xfinity Series
John Hunter Nemechek scores his 7th win of the Season.
Top 10 results from Texas Motor Speedway.
Playoff Standings.
Elimination race for the Round of 12 is at Charlotte Roval.

INDYCAR
Chip Ganassi Racing expands to a 5 car team with the addition of Kyffin Simpson.
INDYCAR announces there 2024 Schedule Today.
Maybe adding one of the most historic race tracks in the United States the Milwaukee Mile?