The Vampire Diaries - S8|E3, S8|E4 and S8|E5 Podcast Review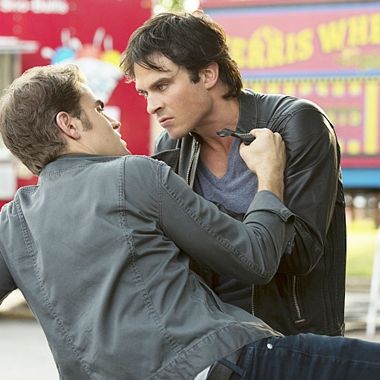 S8|E3: You Decided That I Was Worth Saving (Aired 11/4/16)
SYNOPSIS: As Enzo continues to fight the control over him, Bonnie finds herself at the center of a deadly game and forced to make a heart wrenching decision involving two of the most important people in her life. At the Armory, Alaric researches a mysterious artifact that he hopes will help in their fight to get Damon and Enzo back. Finally, Damon's downward spiral leads him to Tyler who attempts to talk some sense into him before it's too late.
S8|E4: An Eternity of Misery (Aired 11/11/16)
SYNOPSIS: asked with finding a mysterious artifact, Damon's latest mission takes him to Texas where a violent run-in with Peter Maxwell leads to a surprising revelation. Meanwhile, after gaining the upper hand in their fight to save Damon and Enzo, Stefan and Alaric team up and uncover the origins of the mysterious force they're up against. Finally, Matt returns to the fray after his past and present collide in an unexpected way.
S8|E5: Coming Home Was a Mistake (Aired 11/18/16)
SYNOPSIS: Spiraling down a dangerous path of self-destruction, Damon's latest actions prove he may be beyond the point of return. Unwilling to give up on his brother, Stefan is forced to make a gut-wrenching decision that threatens to change their relationship forever. Elsewhere, Bonnie gets advice from Caroline on how to break through to Enzo, while Matt attempts to decipher a mysterious box of messages that he's received. Finally, after tragedy strikes close to home, Stefan and the others are forced to remember what matters most to them.
#TVD #TheVampireDiaries #vampirediaries #TheCW #JuliePlec #KevinWilliamson #IanSomerhalder #PaulWesley #KatGraham #MichaelMalarkey #CandiceKing #CandiceAccola #MysticFalls #TVDFamily #TV #TVReview #review #podcast #DamonSalvatore #StefanSalvatore #NinaDobrev #ElenaGilbert #BonnieBennett #ZachRoerig #MattDonovan #MattDavis #AlaricSaltzman #CarolineForbes #TylerLockwood #MichaelTrevino #EnzoStJohn #Enzo #siren #vampire #witches #werewolves