Talking Paper #11 Texts 2 Tascha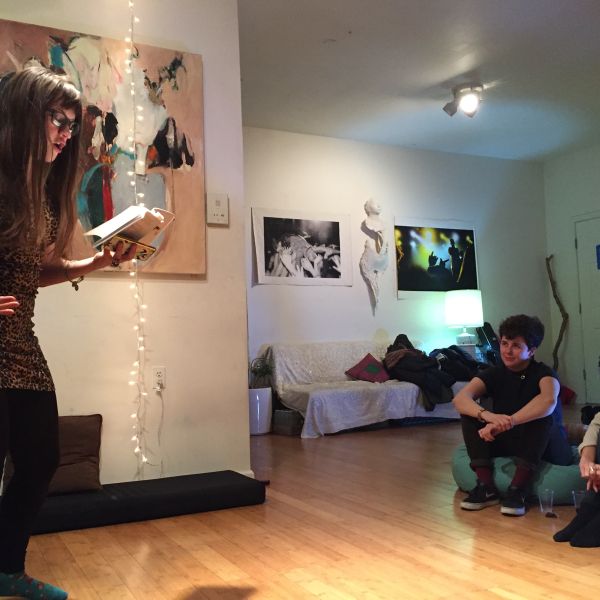 Episode date, April 6th, 2017: I went to GAMBA Forest, a multi-purpose space that serves as both a performance and art venue, located at 231 Norman Avenue in Greenpoint, Brooklyn. It's run by Melissa Hunter-Gurney and Chris Carr, who are co-founders of the literary publication, GAMBAZine. They recently worked with literary nonprofit Nomadic Press to host a poetry and music showcase at GAMBA Forest, titled "Texts 2 Tascha." The event's name and the night's lineup was curated by poet Dallas Athent, to honor the birthday of her friend, the artist Natascha Young, who was visiting Brooklyn from her home in England -- where she oversees the Venus A Day project, in which she carves the ancient female form, known as "the venus", from one of a variety of materials over the course of a single day, as part of a larger series, which she then chronicles on Instagram. I recorded the event, which included the following performers:
Joanna Valente reading four poems: -- The Ones You Left Behind Are Still With You -- The Night Is Dark And Full Of Terrors -- Son -- Your Only Son Is Dead
Craig Kite reading two poems: -- Fuck, We're All Going To Die -- The Algorithm Hates Me
Stephanie Valente reading three poems: --Lake -- It Happened To Me, I Kissed A Gravedigger -- Married To The Mob
Chris Carr reading three poems.
Melissa Hunter-Gurney reading one poem: -- We Still Wear Fucking Fur
Dallas Athent reading four selections from her new book of poetry Theia Mania: -- Page 21. -- Page 27. -- Page 33. -- Pages 58 & 59.
La Julietissima singing four songs: -- Cuando vuelva a tu lado (or, "When I Return to Your Side"). -- Angelitos Negros (or, "Black Angels"). -- Besame Mucho (or, "Kiss me a lot"). -- La Llorona (or, "The Weeping Woman").
GAMBA Forest: http://gambazine.com/
Nomadic Press: https://www.nomadicpress.org/
Dallas Athent: http://dallasathent.com/
Natascha Young: http://cargocollective.com/nataschayoung
Joanna Valente: http://joannavalente.com/
Craig Kite: https://twitter.com/craigkitefly
Stephanie Valente: http://stephanievalente.com/
La Julietissima: http://www.lajulietissima.com/
#talkingpaper #performance #radiofreebrooklyn #poetry #writing #singing #nomadicpress #gambaforest #texts2tascha