'Parties should return to Addis Ababa with a clear vision for peace,' says AU Ambassador
Episode 254,
Apr 18, 2018, 02:45 PM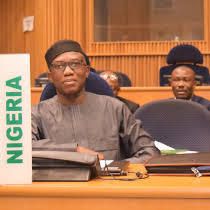 The African Union Peace and Security Council is calling on parties to the conflict to work collectively to end the crisis.
The Head of an AU visiting delegation also Nigeria's Ambassador the AU; Ambassador Bankole Adeoye said the people of South Sudan are 'thirsty for peace' and said, "parties should go back to the negotiating table in Addis Ababa with a clear vision of reaching a deal that would bring durable peace."
Ambassador Adeoye made the comments to journalists after a meeting with President Salva Kiir in Juba.
The closed-door meeting on Wednesday, also touched on the National Dialogue and establishment of the Hybrid Court to try crimes committed during the crisis.
We bring you Amb. Adeoye's statement.