e233 - Georgie Russell, he's one of our own | The NR F1 Podcast
Season 7, Episode 20,
Oct 25, 2018, 11:03 AM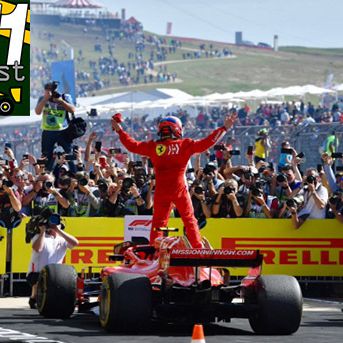 One last unexpected hurrah - for the 2018 season and the man Ferrari have finally decided to cut loose. It was quite the weekend Stateside.
Edition 233 of The NR F1 Podcast sees Michael Bailey joined by Kyle Cumbers and Richard Baxter to digest the Austin action. 
From Lewis Hamilton "failing" to win the championship, to Sebastian Vettel's own recovery - and Max Verstappen didn't do badly either - it's all here alongside the pod's Of The Weekend Awards plus thoughts and predictions ahead of Mexico. 
And if you want to hear more from where this came from, just scoot over to http://www.patreon.com/nrf1 for all the details. 
---
The British county of Norfolk is where the iconic success of Team Lotus was cultivated, where Ayrton Senna, Graham Hill, Martin Brundle, Mark Webber and more honed their race craft - and home to The NR F1 Podcast.
Find all you need to know about The NR F1 Podcast and how to join in with the fun by visiting our website: http://nrf1.uk
JOIN THE CLUB | Become an NR F1 Podcast patron to enjoy a host of exclusive content: http://patreon.com/nrf1
YOUTUBE | Take in The NR F1 Podcast's lovely new YouTube channel - including the video of Michael channeling Seb at Ellough Park and highlights of the inaugural NR F1 Grand Prix (they're on their way): http://nrf1.uk/nrf1tube
PREDICT | Be part of our superb F1 prediction league for the 2018 season - all the details: http://nrf1.uk/predictf1
SUBSCRIBE | Find your podcast player link: http://nrf1.uk/podsubscribe
ITUNES | Subscribe, rate and review us: http://nrf1.uk/isonitunes
GOOGLE PLAY | Likewise: http://nrf1.uk/isongoogleplay
RSS | For android and other devices via audioBoom: https://audioboom.com/channels/4785441.rss
GET IN TOUCH | Follow our social media feeds and join the fun:
TWITTER | http://twitter.com/thenrf1
FACEBOOK | http://fb.me/thenrf1
INSTAGRAM | http://instagram.com/thenrf1
EMAIL | nrf1podcast@gmail.com
---
As for our most popular podcasts in the last 12 months, try these:  ****
@F1 #F1 #USAGP #Kimi #Raikkkonen #Formula1 #2018 #Formula12018 #f12018 #GrandPrix #GP #COTA #Austin #Texas #Podcast #Motorsport #F1isBack #F1Fantasy #F1FastFact #FIA #Norfolk #RedBull #RedBullRacing #RBR #Ferrari #Verstappen #Ricciardo #Fernando #Alonso #Williams #Mercedes #Hamilton #Vettel #Bottas #ToroRosso #STR #Hartley #Sainz #Renault #McLaren #Sauber #Haas #Romain #Grosjean #Leclerc #Gasley #Halo #Marcus #Ericsson