Panel: Foraging, Curiosity during Covid & Period Tech
Season 2, Episode 81,
Aug 05, 2020, 05:30 AM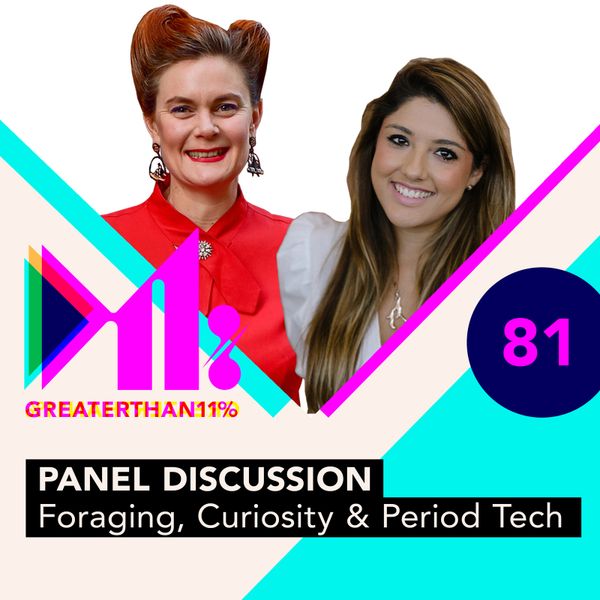 After the COVID19 series & Allyship panel, Crystal and Renee have a good old catch up. They cover how they're doing in the "new normal", their continued allyship journey and they share their top reads and watches from the last few weeks. As ever their conversation ranges far and wide from the fruits of foraging, definitions of equity versus equality, Japanese reality TV and period tech!

We also discuss our BREAKING NEWS!
The Greater than 11% podcast, now in its second series and having interviewed 100+ people, will hit 20,000 downloads in September. We wanted to mark this milestone by continuing to support our community and are focusing on raising £20K for 20K (downloads). The rationale being, if we had a £1 for every listen, we would quickly be able to raise the cash and create a grant fund providing 20 x £1000 for female / non-binary creatives based in the UK.


If you've enjoyed listening to Greater than 11% and  are in a position where you can donate financially you can do so here:
https://www.crowdfunder.co.uk/greater-than-11---20k-for-20k
You can also help us by promoting the campaign on your social channels.
As per our all our panel episodes we end on our watch and read segment. 
Renee's Recommendations: 
📺 Cracked Up: The Darrell Hammond Story, Netflix
📚 The Body Keeps the Score by Bessel van der Kolk

Crystal's Recommendations:
📺 Terrace House, Netflix
📚 Period Power by Maisie Hill
Remember to check out the new Greater Than 11% website (
greaterthan11.com
), subscribe to the newsletter.