LT KUMUDINI TYAGI- FIRST WOMAN OBSERVER IN INDIAN NAVY!
Season 1, Episode 40,
Oct 09, 2020, 08:06 AM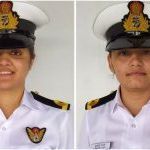 It is a first for the Indian navy to induct women for combat opertions on their warhips. Lt Kumudini tyagi was the first woman to be inducted for the same. Mandee and Kabir spoke to her proud father!.