Discussing: Digital Marlowe - Edward II
Episode 179,
Jun 02, 2021, 09:16 AM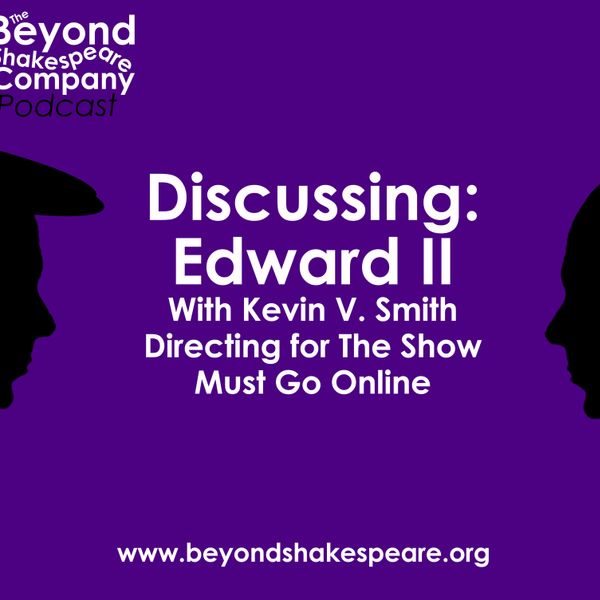 A pop up episode, looking at the upcoming digital production of Edward II
Today we're discussing upcoming digital performances of plays by Christopher Marlowe - today we're looking at Edward the Second, directed by Kevin V. Smith, who joins us to talk about his production for The Show Must Go Online.
In the opening of the episode we mention our recon of a Lord Mayor's Show - you can sign up for that here -
https://forms.gle/dtWgrfTj3RPzpMqs5
- more info to come!
Kevin V. Smith can be found online at
www.kevinvsmith.com
or he can be followed on Instagram or Twitter @kevinVsmith
Edward II is on 9th June 2021 - one week after this episode is released!, if you're from the future, you may have missed it!
Access to the Month of Marlowe is a one-time pay-what-you-can contribution for a recommended amount of £20 (£5 per production), and a minimum of £1+Fees. Access is available via either Patreon or Eventbrite.
Tickets for all four Marlowe events can be purchased here -
https://www.eventbrite.co.uk/e/tsmgo-month-of-marlowe-tickets-156361773273
The Show Must Go Online website is here -
https://robmyles.co.uk/theshowmustgoonline/
Their patreon can be found here -
https://www.patreon.com/TheShowMustGoOnline
Coming up - Dido, 16th June; Doctor Faustus 23rd June; Marlowe Cabaret 30th June. More on these (hopefully) soon...
For more Marlowe fun, go to our Marlowe playlist, including other Edward II material -
https://audioboom.com/playlists/4630963-christopher-marlowe
The host was Robert Crighton.
The Beyond Shakespeare Podcast is supported by its patrons – become a patron and you get to choose the plays we work on next. Go to
www.patreon.com/beyondshakespeare
- or if you'd like to buy us a coffee at ko-fi
https://ko-fi.com/beyondshakespeare
- or if you want to give us some feedback, email us at admin@beyondshakespeare.org, follow us on Twitter, Facebook & Instagram @BeyondShakes or go to our website:
https://beyondshakespeare.org
You can also subscribe to our YouTube channel where (most of) our exploring sessions live -
https://www.youtube.com/channel/UCLa4pXxGZFwTX4QSaB5XNdQ
The Beyond Shakespeare Podcast is hosted and produced by Robert Crighton.