OFF THE JUICE!! Ft ROME MUNDY - Big Homies House E:70
Episode 70,
Jul 12, 2021, 05:39 AM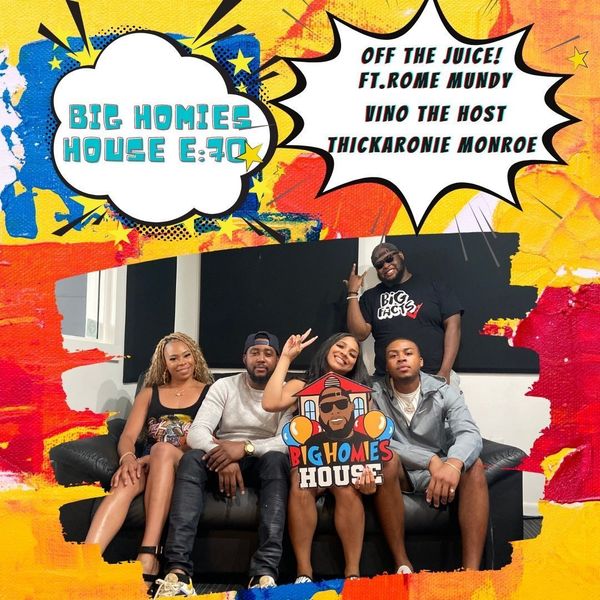 OFF THE JUICE!! Ft ROME MUNDY  -  Big Homies House E:70
#NBAFinals #KevinSamuels #Podcast 
Its episode SEVENTY and we're going up the only way we know how!!!! We got big Homie Rome , Big Homie Vino, Big Homie Thickaronie Monroe! 
We talk about whether you're obligated to tag a service you paid for, we dig into surgery bodies,  for men and women, and a whole lot of conversation around whether this batch of men deserves submission or not!!! 
TAP IN WITH THE HOMIES!!! 
ALL PODCASTS AUDIO AVAILABLE HERE: 
ROME MUNDY MUSIC HERE:
THICKARONIE MONROE ONLYFANS LINK HERE:
This weeks Homies are 
@romemundy
@vinothehost
@thickaronie_monroe
TIMESTAMPS: 
4:20 - Are You Obligated To Promote A Service You PAID For???
10:49 - Is A Surgery Body Still "Natural" ? 
13:43 - Would You Sleep With A Guy That Had Lipo
14:50 - Ladies, Would You Sleep With A Man With A Lacefront?
19:00 - She Dated What ??
23:50 -  Can Cheating Ever Be Justified?
29:30 - When One Side Doesn't Acknowledge The Breakup 
35:13 - Is The Idea Of Her Possibly Cheating, Worse Than Knowing She ACTUALLY Cheated?
44:05 - Should Your Standards Line Up Lifestyle
49:12- Would You Date A Guy Pursuing A Doctorate?
56:05 -At What Age Do You Start Having REAL Relationships? 
58:03 - Ladies, Is This Generation Of Men Worth Submitting To?
1:00:57 - Ladies, Submit. For The Good Of The Family 
1:09:10 - Yam Cam. 
NBA Playoffs, Atlanta Hawks, Giannis, Milwaukee Bucks, Dababy, Sha'Carri Richardson, Bill Cosby, Summer Walker,  Lacefronts, The Homies, Black Effect Podcast Network, Submit, Kevin Samuels,  Lil Baby